LIGHT WEIGHT PORTABLE SOLAR GENERATOR
Lion Safari
Lion Safari LT
99990550
The Lion Safari LT™ is a portable solar powered generator that provides safe, silent, and renewable power for your cooking, communication, entertainment, CPAP, work, and emergency needs. No fuel, smelly fumes, or maintenance needed. At 500W of multiple outputs and only 11 lbs, you can have power at your fingertips, wherever you are.
More power, less weight – 500W / 450Wh capacity at only 11 pounds

Faster Charge Time – Can fully charge from the wall in as little as 3.5 hrs

Renewable – Can solar charge in 5 - 7 hrs using a 100W solar panel
TECH & SPECS

---
The Lion Safari LT is a 500W / 450Wh portable solar powered generator that provides safe, silent and renewable power for every day use so whether your cooking, camping, communicating, having back yard parties, entertaining, working or in an emergency, you'll have the power you need.
---
SAFARI LT
WHAT IT CAN POWER

---
Actual run times may vary

---
LION CUB GO
WHAT IT CAN POWER

Actually run times may vary
---
Mini Fridge - 55W
6.5 Hours
Reading Lamp - 4W
90 Hours
---
The Safari LT uses our Fast Charge technology so you can charge from solar in as little as 3.5 hrs. This gives you more power with less weight - 450Wh, 11 pounds. It can even power medical devices with its 500W pure sine wave inverter.
---
Faster Charge & Light Weight
Can fully charge from the wall in as little as 3.5 hours. At 11 lbs, it's light weight and easy to carry.
Made from Lithium NMC which is one of the safest tech on the market. You can use it indoors or outdoors. It produces no emissions.
Has 1,000+ lifecycles, which means you can use it over and over again. And it can hold a charge for up to 1 year.
It has 2 AC outlets, USB-A, USB C, 4 barrels (12V), and a 12V Car auxiliary outlet. So the type of devices you can power is endless.
Renewable Solar Generator
Use the power of the sun to fully recharge the LT in just a few hours if using multiple solar panels.
Heavy duty rubber mounted corners makes it ideal to take with you anywhere you go.
A 500W Pure Sine Wave inverter can be used to power medical devices like CPAP machines.
Produces zero emission or carbon footprint during use so it's good for you and the planet.
Produces virtually no noise, so you can sleep through the night at camp or have undisturbed work or play.
---
---
Multiple outputs allow you to charge so many different devices.

---
(Optional) Want to recharge the LT off grid?

---
Being away from your house doesn't mean you have to leave your power behind. Take power with you with the Lion Ultimate LT Kit. It provides safe, silent, renewable, portable power using the energy of the sun.
Includes:
1X Lion Safari LT
2X 100 Watt Folding Solar Panels
1X 25' Solar Extension Cable
1X Fast Charger for the Safari LT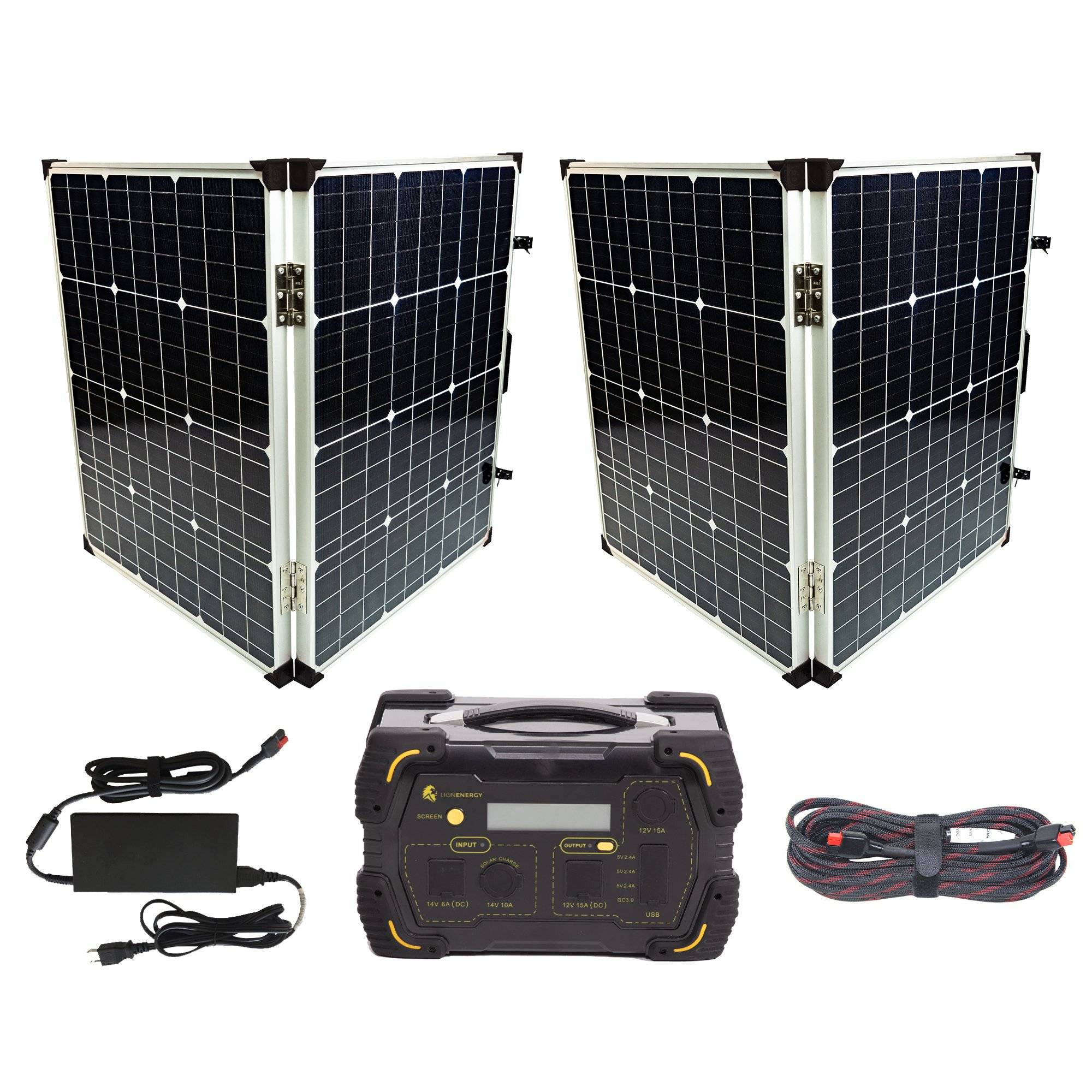 ---
WHERE TO USE YOUR PORTABLE
POWER GENERATOR

---
Hello Lightness, My Old Friend.
Unlike gas generators, the Lion Safari LT has silent power enabling you to sleep through the night at camp or allowing for an undisturbed work or play environment. No need for long extension cords to keep you from hearing a noisy, fuel-powered, smelly generator. Whether you're doing extreme sports or just strolling through the park, the Lion Safari LT provides you power. Power for your USB devices like your phone or tablet or AC power for things like your laptop or CPAP machine that still has a cord – we've got you covered.
A Basecamp Beast. A Work Place Must.
At just 11 pounds the Safari LT is light enough to power base camp no matter were you set up. With it's unbelievable battery capacity you can weather out storms and keep your electronics going for days on end.
From dawn to dusk, the Safari LT is the perfect power solution for any work environment. It works as hard as you do. (Almost). Charge your tools, run laptops, lights, and other devices.
---
HOW THE SAFARI LT STACKS UP TO OTHERS

---
Compared to the other similar power stations in its class, the Safari LT is a much smaller, lighter, and has a rugged design.

The Safari LT give you more outputs so you have more choices on powering your devices.


Our Fast Charge technology makes it so you are able to charge the LT faster and get on to your adventures sooner.

When comparing power capacity on a price per unit, the Safari LT gives you the most bang for its buck.
Safari LT
Goal Zero Yeti 500X
Jackery 500

Dimensions - Inches (L x W x H)

2X AC @ 110V
2X USB-A Ports - 5V @ 2.4A
1X USB-A Port - QC 3.0
1X USB-C Port - PD 60W
12V @ 10A Car Auxiliary Outlet
4X 12V @ 5A

1X AC @ 120V
1X USB-A port - 5V @ 2.4A
1X USB-C port - 5/9V up to 3.0A
1X USB-C port PD 60W
12V @ 10A Car Auxiliary

1X AC @ 120V
1X USB-A port - 5V @ 2.4A
12V @ 10A Car Auxiliary
DC Output 12V @ 7A

3.5 hours (using fast charger)

Battery Capacity - Watt Hours (Wh)

Battery Output - Watts (W)
Safari LT

Dimensions - Inches (L x W x H)

2X USB-A 5V @ 2.4A
1X USB-A QC 3.0
1X USB-C PD 60W


4X 12V @ 5A barrel plugs (5.5mm x 2.1mm each)
| | |
| --- | --- |
| | Safari LT |
| | |
| Battery Capacity - Watt Hours (Wh) | |
| Battery Output - Watts (W) | |
| | |
| | |
| | |
| --- | --- |
| | Safari LT |
| Wall AC with provided Outlet/With Optional Fast Charger | |
| Solar / DC Min. Charge Time (With 100W Solar Panel) | |
GET TO KNOW THE
LION SAFARI LT
---
What can you power with the Safari LT
Daily Life With Safari LT
How To Install Solar In Your Shed With Safari LT

Hello Lightness My Old Friend
The Lion Safari LT is made from Lithium NMC and is incredibly safe. Because it does not emit any toxic fumes you can use it inside your home, tent, RV or any other confined area. The Lion Safari LT goes through extensive testing from initial design through production and before it ever leaves Lion Energy.
If you want to know more about how safe Lithium is click below.
FREQUENTLY
ASKED QUESTIONS

---
The Safari LT is the latest in Lithium technology for portable power needs. It replaces traditional noisy gas generators with the safest Lithium batteries on the market today. It is lightweight and powerful solar power unit.
What does the Safari LT power?
You can use it to power a wide variety of devices like cell phones, laptops, tablets, mini-fridges, TV's lights, power tools, and the list goes on. Any device that requires less than 500 watts, the Safari LT can power it.
How can you figure out how long the Safari LT will power specific devices?
To calculate how long the Safari LT can power a device, use this formula: Wh / W = Estimated Run Time. The Safari LT has a continuous 450Wh of power output. For example, if your device draws 25 watts then the LT would power the device for 18 hours (450Wh/25W=18hours).
How long can the Safari LT hold a charge?
It will maintain its charge for up to a year without having to charge it. This is known as shelf life or storage life. However, we recommend using it more frequently – in the house, outside, on adventures and ready for emergencies. It has over 1,000 cycle capacity so you can use it again and again and again.
Can it store solar power?
The Safari LT is a great energy storage unit for solar power and can be charged by using solar panels. It can store 450Wh (Watt hours).
The Safari LT, User Manual, Wall charger adapter (5V@3.4A). If you also purchase the Safari LT directly from Lion Energy Online it comes with our fast charger.
Why should I buy Safari LT?
The Safari LT is made from the highest quality and longest lasting battery technology - Lithium. The Safari LT is safe, silent and renewable, unlike other gas-powered generators. It gives you power anywhere, anytime.
How do I get the AC output on the Safari LT to turn on?
The AC power on the Safari LT is not automatically turned on when you plug something into it. First turn on the main Safari LT unit then press and hold the yellow AC power button on the side located by the 2 AC plugs for 2-3 seconds. The red indicator light on the AC button will be illuminated.
How do I charge my USB, 12V Devices?
Once you turn on the main Safari LT unit, turn on the USB, 12V, or the 4 DC 12V barrel output by pressing the yellow Power Indicator button in the output area on the front of the Safari LT device for 2-3 seconds.
Is it good in bad weather?
The Safari LT perform great in most weather conditions. It is water resistant but not waterproof.
How big is the Safari LT?
It weighs in at only 11 pounds and is 12" L X 6.5" W X 7.3"
What's the rated capacity?
It is a 12V, 450Wh (watt hours or how much energy it can store), 500W (watts or how much power it can output at a time).
The Safari LT is part of Lion Energy's pride of products that creates clean, limitless, renewable energy sources to power your life. It's designed for recharge through traditional AC power or renewable source - the sun.
Unlike other power units, the Safari LT has silent power enabling you to sleep through the night at camp or allowing for an undisturbed work environment. The Safari LT uses a lithium battery and powerful inverter. Occasionally a small internal fan may to turn to cool the unit.
The Safari LT can last for years if you take care of it and it comes with a 1 year warranty.
Can you power multiple devices at the same time?
You can use all the outputs at the same time. So, that is two devices charging off the USB Ports, another device charging off the cigarette light, another device running off the AC 110V plug (this could be a 60 inch T.V.) and another device charing on the USB C.
Do I have to maintain the Safari LT?
The Safari LT is virtually maintenance free. It can be used on a daily basis.
This is the charging port that all the new phones are using. All Android phones will be switching to this type of plug. They will do this because it is able to handle more power. Lion Energy added this port so that the Safari LT is on the leading edge of technology.
---
Customer Reviews
100
reviewers would recommend this product
Write a Review
Ask a Question
02/13/2023
David W.

United States
I recommend this product
Question
I did not know the solar panel was separate
10/21/2022
James G.

United States
I recommend this product
Great product lacking package
When I bought it, I thought it was a package deal. Upon finding out it wasn't, I called to return. Excellent customer service. Answered all my questions and immediately sent me some info I requested.
09/16/2022
Raymond G.

United States
I recommend this product
Emergency test
Tested the unit for 1 night using my cpap. The unit still had around 50% battery, so the unit should be good for small emergencies
08/01/2022
John D.

United States
I recommend this product
LT Review
Very good product; works as advertised.
04/08/2022
BCW

United States
12V not regulated
The 12v cig outlet is not regulated. Does not work very well for a car/camping mini fridge.
03/10/2022
rod s.

Canada
video stinks
cant hear what the video host is saying there music too load in background
01/12/2022
Adrienne A.

United States
How to use
I charged it, but haven't figured out how to plug something into it. Needs better instructions.
10/03/2021
Dana W.

United States
So convenient!
The Safari LT and solar panels are so easy and convenient! No more running extension cords out to my BBQ trailer! I can run my Traeger, ThermoWorks Signals, and my trailer lights with the LT, and the solar panels charge the LT faster than the power used! I love it!
10/03/2021
Cesar M.

United States
Cool
Charged my camping fridge in 20 minutes and went on for 6 to 8 hours. Will use camping next week and see it at work in the field with panels.
09/23/2021
Cody

United States
My emergency prep battery
I decided to try out solar energy with the Safari LT. And a couple solar panels. So far everything has worked and charged to full. Super quick shipping, only took a few days.
08/12/2021
Neil P.

United States
Power for Bi-Pap While Camping
Purchased the Lion Safari LT at our local Costco. The primary purpose of the purchase was to power my Bi-Pap device while camping. During my trial run while camping I powered my Bi-Pap leaving the humidifier and heated hose features off. In the morning the Bi-Pap was still running with the battery down about 1/3. My next experiment was using the power source with my Bi-Pap humidifier and hose both set one setting lower than normal. I was able to run the Bi-Pap for just over 7 hours and 45 minutes before it quit. I was very impressed. I feel that this portable power source will allow me to use my Bi-Pap while rough camping or boonie RV'ing without needing to install an inverter and drain the RV battery during the night. I can also use the power box for powering/charging many other electronic devices. The Safari LT I putchased (via Costco special promotion) came with the 100 watt solar panel, solar cable, various charging cords, and a three bulb (LED) light cord accessory for about $589. So far I am happy with my purchase
05/10/2021
Elona S.

United States
Lion safari lt
I left on trip b4 it arrived. It will be a backup to the off grid camping kit I bought from costco. The solar works great. The 12v I plugged into motorhome it blew out my 12v plug. Would not recommend using vehicle 12v for charging
03/27/2021
David R.

United States
Safari LT
We received the unit this past Tuesday and so far it's performance has been flawless. We charged it this morning using the solar panels and were thrilled that it fully recharged in only 3 hours. We are equally happy with the UT 1300 battery that we've been using for over a month now.
03/09/2021
Ricky R.

United States
So far so good.. Because ,Red Poppy Ranch ,gave such a High rating , I decided to purchase one.
12/15/2020
Cody

United States
The LT is Like a Good Friend
I've been looking for a good generator but had some specific requirements: something fairly quite, didn't want the fumes and hassle of gas and maintenance, needed to be light enough that my wife (5'1") and grandkids could move it around, have enough power to run lights, cell phones, TV (we like to do the projector and TV out the back of the house near the fire pit) and we could use for extended periods of time. And I was hopeful it would be at a good price. I had one of the kids help me with all the research and found a company that got high ratings for not only their products but also to do business with and great customer support. It's called Lion Energy. We decided on the "Safari LT" unit and made the purchase. We've used it several times now and 2 of our sons borrow it all the time (I'm thinking about getting them each one for Christmas so they stop borrowing mine). We all love it because it meets all my requirements previously stated and to top it off, it looks great, has a really easy display screen to read that shows how much power it has and how long it will last at the current rate of use, and it seems incredibly durable (we've accidently knocked it over a few times and it fell off the truck tailgate too). So we are really happy with this unit and can highly recommend it.
Camping
We haven't used the solar power unit yet but plan on using when we go camping. It will be good for out iPhones and iPads. We can also use it to power lights and mosquito zappers. We're also going to try it out this month to power some outdoor Christmas decorations. For some reason we have no electrical outlets anywhere on the front of our house.