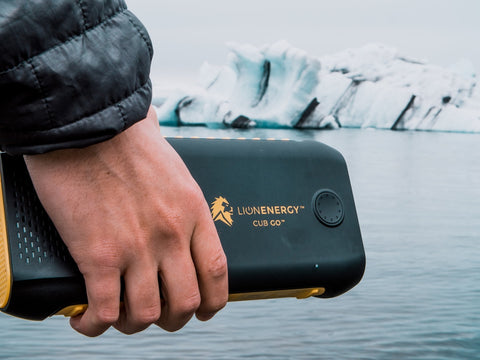 Why You Need a Portable Power Supply This Winter
There are a lot of reasons to love winter. Beautiful snow and winter sports are just the tip of the iceberg. But we all know that winter, great as it is, also comes with some challenges too, like slippery roads and blizzards. When winter is on the way, it's time to assess how prepared you are for the coming chilly months. 
You can prepare in a lot of ways, but we think that one of the most important ways to prepare is making sure you have backup power available in your home and vehicle. These are the places you need a battery backup power supply most, and here's why:
Be Ready for Power Outages
Every winter seems to have that one big storm that shuts down your town. And, particularly in the northeast, it's common to have storms that knock out the power for days at a time. When storms like this come your way during the winter, you want to be ready for those potential power outages. You still need heat, lights, communication devices like cell phones, TV, and computers, and many of us need medical devices like CPAP machines. Going without power isn't a good option. 
To prepare for a power outage in the winter, it's best to have a battery backup power supply in your home. Keeping some lithium-ion batteries, power banks, and portable and safe generators, handy will help you be ready for the storms you might face. 
In your backup power supply for your home, we recommend using the Lion Safari ME. It's a professional grade lithium-ion battery based generator that you can easily use inside your home. Many power supplies can last a few hours, and sometimes that's all you need. But if you have a power outage, you may need something with more power and that will last longer.
The Safari ME can be used all day without running out of power. It can charge with solar power on sunny days and store that power for up to a year, so you could easily charge it before winter hits and it will be ready to go at a moment's notice. If you keep it connected to solar power, it will be able to charge continually while it has sunlight. So on those sunny days between storms, you can prep for the next power outage. The Safari ME can power pretty much anything you normally plug into a standard wall outlet--fridge, washing machine, kitchen appliances, TVs, computers, lights, tools, CPAP machines… well, you get the idea.
The Safari ME is best used for the major needs. But it's also a good idea to have some smaller backup power units too. Having a couple of power units like the Lion Cub GO, which is only about 12" long, would work well for the smaller devices. Despite it's small size, you can easily charge a phone for 18 hours with the Cub GO, for example.
Though it's tempting to use gas generators as your backup power supply in the winter, lithium-based units are actually proving to be a much better and safer option. Lithium generators can last longer than you might expect, and since they require no maintenance and can be easily stored charged and ready to go when you need them. They don't put off any pollutants or emission or dangerous fumes so you can safely use them indoors. You'll be glad to have one of these portable power units.
Stay Safe on Icy Roads
Driving in the winter is not anyone's favorite activity unless you're on a snowmobile. The snow and ice can be stressful, whether there's a storm or not because your car can still slide regardless. If you do slide off the road and get stuck, you want to make sure that you have a power supply in your vehicle. Having the Lion Cub GO in your vehicle, for example, is a small power unit that will help you keep your phone charged so you can call for help. It also has a built-in flashlight, so you can use that to help people see you.
Snow and ice are a significant problem for winter driving, but the last thing you want on top of winter road conditions is car trouble. One of the best lithium power units you can keep in your car this winter is the Lion Cub JC because it's a jump starter, air compressor, flashlight, and backup battery all rolled into one. You'll be able to use it for almost any trouble you might have on the road where you need power. And best of all, you can charge it while you drive as well, so it's always ready to go. It even has two USB outputs to keep devices charged.
Bring Out Your Holiday Spirit
Not everything about winter is scary or dangerous. One reason winter is such a favorite for a lot of people is the holiday season. We're all looking forward to a cheerful season this year, and having a power supply on hand will help you celebrate even smarter this year. 
For example, if you decorate your home with lots of lights or decorations, try the Ultimate LT Power Kit to set up solar panels with a lithium-based power system to help power your festive decorations. With the solar panel in the right place, your LT silent generator will be able to charge during the day so it's ready to light up your home at night.
Or if you're gathering with family virtually this winter, you could use a smaller power unit, like the Lion Safari LT to keep your laptop powered all day as you celebrate holidays with your family safely. 
However you choose to celebrate the holidays this year, having portable power can come in handy in ways you may never expect. And since family connections might look different this year, extra power to keep you connected will be a comfort to you.   
Maintain Power on the Slopes
A big part of winter means getting outside in the cold, fresh air to enjoy the snow. Whether you ski, snowboard, snowmobile, ice skate, or just like having fun in the snow, having a portable power supply could prove very handy.
As we've already mentioned, it's really important to keep your devices charged when you're home and away from home. And when you're in the mountains, it's just as important to keep your power up. After all, accidents can happen, and you'll want to be able to call for help if needed. Plus, having your phone ready to snap a picture of the scenery or your buddies will make your trip even better.
If you decide in the middle of the day that you need a break from your activities, you could use a portable generator like the Lion Safari LT or use the Lion Safari ME to power a portable space heater so you can warm up a bit before returning to the slopes. This kind of power would be especially handy if you decided to do some winter camping as well. 
Prepare with Backup Power Solutions from Lion Energy
Winter is a time that needs to be prepared for. You need to have access to power. And Lion Energy has what you need. 
Lion Energy's portable power units have unbeatable quality, safety, portability, lifespan, and are easy to use. These units are made to last a long time with no maintenance required, making them the simple solution you need to prepare for this winter. Find a full list of our lithium solutions on our online catalog.