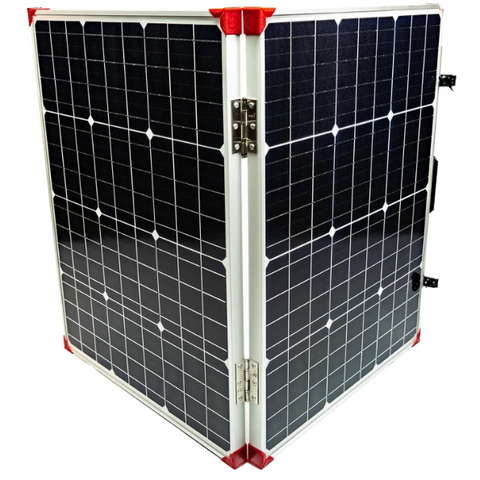 Top DIY Solar Panel Kits for Your Home
For many of us, the events of this year have made us spend more time at home than we used to. This time at home has helped many people reassess things in their lives, and for you, one of those things might have been power--your personal power and even how much power you use in your home. 
Power is costly, both financially and environmentally. And when you're home more, you use more of it. But did you know that you can lessen your reliance on the power grid by incorporating solar power into your home? When life throws storms, fires, blackouts and more at you, considering solar power for your home is more important now than ever. 
It's about choice, your choice. You can become energy independent and find ways to use clean and cheap energy to lessen the overall cost of power in your home. And it's easier than you might think when you use DIY solar panel kits to get started.
Why You Should Install Solar Panels Yourself
You might be thinking, "Okay, I know solar panels can be a good source of energy. But why should I put them in myself with a DIY solar kit? Couldn't I just hire a professional to do it?" It's true that you can hire a professional to install solar panels for your home. However, there are some disadvantages to hiring out solar panel installation to a professional. 
See, when a professional comes to install solar panels, those panels are fairly permanent. They have to stay in place until they stop working, and then you have to hire the professional to come back and replace them. Not only can it be frustrating to have to have professionals work on your roof's solar panels every few years, it's also expensive. Between the cost of the solar panels themselves and the labor cost, you're paying a lot more than you would by doing it yourself, especially if you need a modest amount of power. 
It turns out, solar panels don't have to be difficult to install. They're pretty easy to install alone if you have the right DIY solar panel kit. And if you need to move your solar panels to make sure they're getting the best sunlight, or you just want your solar panels out for part of the year, you can easily move them on your own.
DIY solar panel kits are also the most affordable way to install solar panels for your home. All you have to pay for are the solar panels and necessary equipment to make them work. You'll have no extra fees or labor costs to pay. 
Taking all of this together, you've got options. If you're looking to lessen your reliance on the  power grid and not spend a ton, then the best way to start using solar panels is with a DIY solar kit.
Our Top DIY Solar Panel Kits
At Lion Energy, we have several DIY solar kits, but the Beginner DIY Solar Panel Kit is our top pick. It's a simple collection of all the necessities. Most important, it has the Lion 100 watt Solar Panel. You can easily attach it to a roof and connect it to a battery for quick, clean power. But if you don't want it to be permanently on the roof, it's also designed to fold and carry along for portable power. If you need more power, you can also link multiple Lion 100 panels together for extra power.
The kit also includes connection cables, a power inverter, and a solar charge controller so you can regulate the flow of power from the solar panel to your energy storage (lithium battery). The kit can include a large lithium-ion battery as well if you want one or expand it to more energy storage.
Including the lithium battery gives you a storage of solar power to draw from anytime you want it. The battery will hold its charge for up to a year, so if you need power on a cloudy day, the battery will still give you power even if the solar panel isn't receiving much sunlight. It's also perfect to use during the night or when traditional power isn't available, like during blackouts.
The Beginner DIY Solar Panel Kit is the perfect way to start testing solar power at your home. You'll be able to see the difference it can make without paying an arm and a leg to install it. 
The Ultimate Safari LT Kit has a similar collection to the Beginner DIY Solar Panel Kit, but with a few differences. It includes two Lion 100 Solar Panels to harness the power of the sun and all the necessary cable connections. But it also comes with a Lion Safari LT power unit or generator that you can take and use anywhere, indoors or outside. 
The Lion Safari LT is small, lightweight and packs a lot of power. The thing that makes the Safari LT really convenient is that it is already self-contained and is easy to connect to any device. It has two AC outputs, four USB outputs, and two 12 Volt outputs to make it extra versatile. You can charge a phone, a lamp, a TV, and even a mini fridge with the Safari LT. Overall, this is a good combination of battery and solar power to help you use less power on the grid. 
Maybe you're past the point of testing solar power in your home, and you're ready for a more heavy-duty DIY solar panel kit. That's when you'll want to try the Disaster Prep Kit because it definitely takes DIY solar power to the next level.
It starts with the Lion 100 Solar Panel - four of them - and follows up with four Cub GO 20 Solar Panels. The GO 20 watt panels are smaller than the Lion 100 watt panels (they weigh only 3 pounds each), but still give you the power you need and are designed to have a 20-year life expectancy. You can directly plug various USB devices into the GO 20 to be charged.
The kit also includes two Lion Safari LT solar generators as well as four Lion Cub GO portable generators, which are small enough to keep in a pocket or bag or even take on a plane. The Cub GOs have AC, USB and 12V output and a built in 3 stage flashlight. The rest of the kit is made up of connection cables, four strands of LED light bulbs, and the Lion Cub JC, which is a jump starter for your vehicles as well as a backup battery for small devices. It even has a handy flashlight built in.
When you're preparing for emergencies, it's a good idea to have lots of backup power. You want to be able to run your fridge, communication devices, lights, CPAP machines and more. The Disaster Prep Kit is the DIY kit that will give you all of the backup power you need to get through power outages and other emergencies and you can use it daily around the house too. 
Lion Energy Solar Power Solutions
When you're new to solar power, it can be intimidating to try and figure out the best ways to incorporate solar power into your home. Using DIY solar kits lets you experiment with solar power without too much financial commitment. With a solar kit, you can easily try solar power in your shed or on your house, and you can even take it on the road with you. 
So if you're considering adding solar power to your home, try Lion Energy's DIY solar panel kits. They have all the parts you need, from the panels to batteries and portable generators, and they're all easy to use. Check out our solar kits in our collections today.