Safari + Expansion Pack (XP)
3,000W | 4,300Wh (combined)
Safe. Silent. Renewable. Power.
At Lion Energy, we believe we are all on a journey to become energy independent. Our Smart Energy™ solutions help you optimize the way you store and use energy. We are dedicated to providing safe, silent, renewable power that you can use every day – around the house, in the yard, on an adventure or during an emergency. We do this by engineering, creating, manufacturing, testing and delivering high-quality energy storage products for home, work or play.
All of these solutions, from portable handheld power banks and solar generators to home and large custom solutions, use advanced technology we call LionESS™ or Lion Energy Storage Systems. LionESS allows you to control and efficiently use energy, where you need it, when you need it.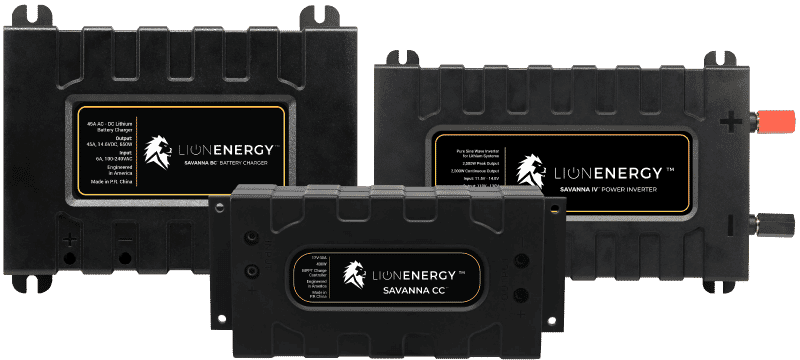 Charge Controller, Power Inverter, and Battery Charger
The Savanna CC (charge controller), Savanna BC (battery charger), and Savanna IV (power inverter) give you all the components you need to manage solar charging and energy usage of lithium batteries.
On all orders in the Continental US.
30 day money back guarantee.
Have questions? We're here to help.
WHAT MAKES LION ENERGY
DIFFERENT

Technology | Safety | Service | Range of Products
WHY WE USE
LITHIUM IRON PHOSPHATE

Safety, technology, service. They matter.
We use the safest and most advanced Lithium Iron Phosphate technology so you can have power storage at anytime or anywhere. Lithium Iron Phosphate, or LiFePO4, batteries are one of the most durable and reliable energy sources on the market and a drastic improvement over lead-acid in safety, weight, capacity and shelf life.
Lithium Iron Phosphate is the safest lithium on the market. It will not explode or catch on fire. It is absent of potentially volatile chemicals that are found in other lithium cells. Click to read our safety white-paper 
Lithium Iron Phosphate batteries have up to 6,000+ life cycles without significantly decreasing performance. That means they last for years and years. By comparison, the average lifetime of lead-acid batteries is just two years.
Lithium Iron Phosphate has 100% of its capacity available for use. It can be quickly charged, discharged, and recharged again and again, reducing downtime, which increases efficiency. This makes it a great fit for a variety of applications.
It does not require active maintenance to extend its service life. The batteries show no memory effects and can be stored for long periods of time because of the extremely low self-discharge rate (<3% per month).
Because they emit no fumes or require little air flow, you can use them inside or outside. They can be stacked on top of each other or can be used in any position.
Peaks and Valleys Energy Use

Using Lithium Iron Phosphate for energy storage, we can optimize usage and help solve the peaks and valleys that occurs during high and low energy demand usages. This can help stabilize the grid from intense demand cycles by allowing you to use the stored energy when you need it.
For the first time, green energy can not only be generated but can also be effectively stored and used as needed. You can harness the power of the sun and use it over and over again.
Lithium Iron Phosphate batteries are relatively small and light weight. Compared to lead-acid batteries, lithium provides great energy density at about half the mass and weight.
Energy storage allows you to be independent of the grid so you can have energy where and when you want it. So, you don't have to worry about black outs, brown outs, or when the grid goes down.
You can have confidence that we deliver great products to you because we listen to you and build products with you in mind. You want quality products that last, have great value, and no hassle. We hear you. And we combine that with amazing engineering, extensive testing, and innovative technology and processes that our American made company is know for.
We provide products that are valued by our customers because we design, engineer, manufacture and test each product to the highest standards. It doesn't go into production or get shipped out of our HQ until it passes a ridiculous amount of testing. It has to be good enough for our family before it goes to your family.
Proprietary Testing Process
Each one of our batteries goes through a comprehensive testing process. Our pursuit for safety and performance is unparalleled in the industry. Only after rigorous testing and documentation, do our batteries get the Lion Energy stamp of approval.
Battery Management System
Our Battery Management System (BMS) is technology that is built-in to govern the products' performance and safety. It's like a personal protector of the Lion product that monitors, regulates, and protect such things as current flow, charge and discharge rates and capacities, over voltage and thermal protection. If needed, the BMS will automatically shut the battery down and protecting you and the equipment it's powering.
Highly Efficient Lithium Cells
When it comes to lithium batteries, there are two technologies that are used: prismatic and traditional cylindrical cells. Cylindrical cells are bigger, heavier, take up more space, and require more connection points that can fail. We use prismatic cells that are thin and light weight and cased with steel which makes them more stable. This also allows for more energy storage in a smaller space with less connection points. And that's a good thing.
When it comes to energy storage solutions, one size doesn't fit all. Our solutions range from small personal power banks that can be used on back packing trips and through airports, to portable solar power units or generators that power your RV and critical places in your home for days, all the way to whole home and commercial energy storage systems that support off and on grid use. Lion provides you the type of power unit for your different needs.
Our batteries do not require active maintenance to extend service life. There's no water to add, no trickle charging to do, no toxic fumes to worry about, no hassles. This makes it so our power units can be stored for long periods of time without worrying about them. Lion power units typically have an extremely low self-discharge rate (<3% per month).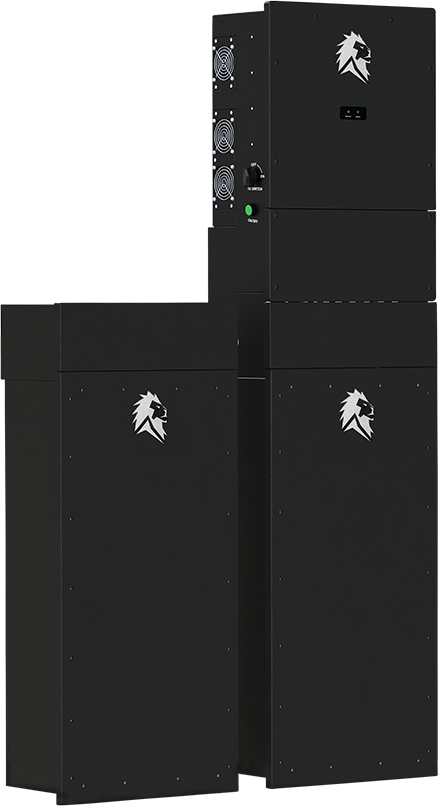 Residential Solutions - Lion Sanctuary™
Lithium Energy Storage System
The Lion Sanctuary Lithium Energy Storage System™ (ESS) is a powerful solar inverter and energy storage system that harnesses the power of the sun to power your home, cabin, houseboat or office.
Commercial Solutions - POWERsave™
Cabinet, Containers, and Control Buildings
Our POWERsave Solutions can be used to for Utility, Commercial, Industrial, Mining and Oil, and any other field you can think of. We use state of the art Lithium Iron Phoshate battery solutions AND combine that with our propritory LionESS advanced technology which includes our Battery Management System (BMS), Inverter or Power conversion System (PCS) and our Energy Management System (EMS) technology. The benifits provides key cost savings and energy independence for your company and cutomers.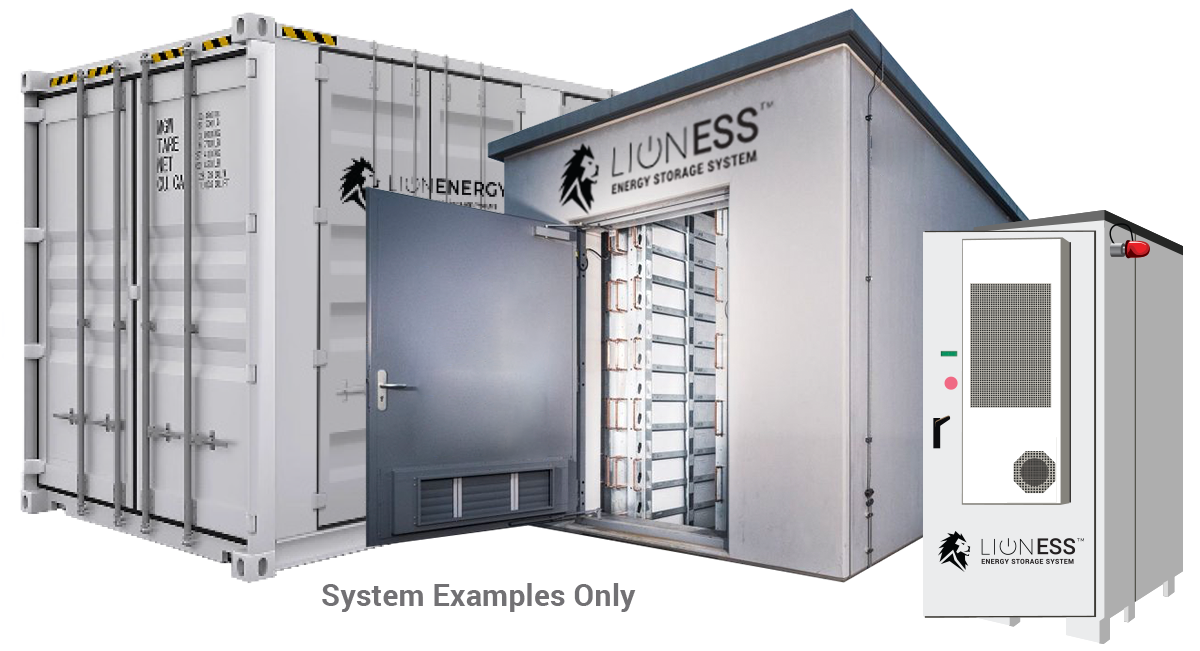 HOW ENERGY STORAGE
AND USAGE WORKS

When it comes to having power at your fingertips for everyday use – no matter what that day brings – it's about getting, storing and using energy or power when you need it and where you need it. There are several ways to do this but you want the best way. And Lion Energy is a perfect partner to help you. Having your own energy system has never been so easy and so affordable.
You can get power from the grid (utilities), from the sun through solar panels, from the wind, flowing water, or even some other human-made devices.
We love harnessing the power of the sun as a source of renewable energy that is sustainable and good for the planet too. Solar panels absorb the sun's energy and convert it into usable energy that can be stored in various devices like the Lion Cub GO™, Safari LT™ or Safari ME™ portable solar power units or, even a home lithium energy storage system like the Lion Sanctuary™.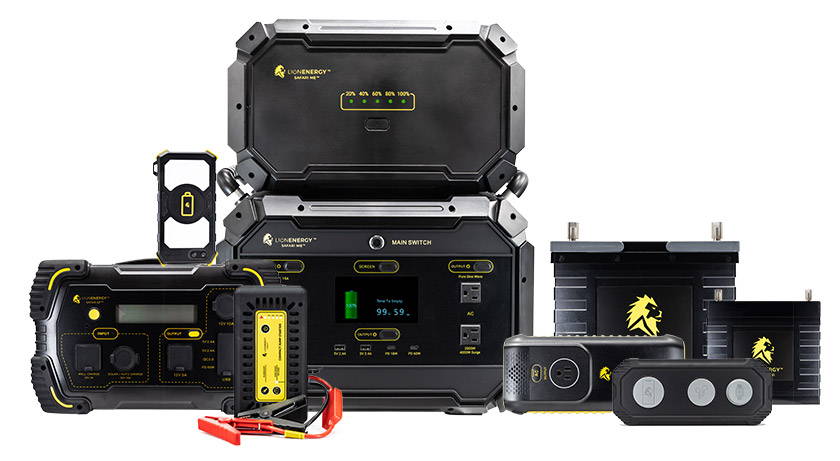 Store you solar power to use whenever you need it. We have solutions for your specific needs. These range from our smaller personal power banks (Lion Eclipse™ and Prowler™ or Cub JC™) with just under 100Wh to our larger portal solar power units (Lion Cub GO™, Safari LT™ and ME™) with just under 3,000Wh to our flagship whole home lithium energy storage system (ESS) called the Lion Sanctuary™ with up to 40.5kWh. You get to choose a storage option that's best for YOU.
Whether you need to pack away some power in your bag or want to power your whole home or just a weekend get way, there are options for just about any scenario you can use everyday.
Use your stored energy to power just about anything. Lion power banks are designed with an assortment of USB to AC ports, while our solar power units are equipped with multiple port options ranging from 12V and USB/USB-C ports all the way up to a 2,000W AC inverter with a peak at 4,000W. Power anything from your phone to your home and everything in between.
Lion products provide portable power so you can power what you need to, when you need to – at home, around the yard, on the go, for any adventure or emergency to come your way.
Follow Us on Instagram