Commercial, I/U, and Large Scale Energy Storage Solutions
Lion Energy's POWERsave systems
---
Provide cost effective, custom energy storage solutions to reduce operating costs, address power grid instability, and improve the environment.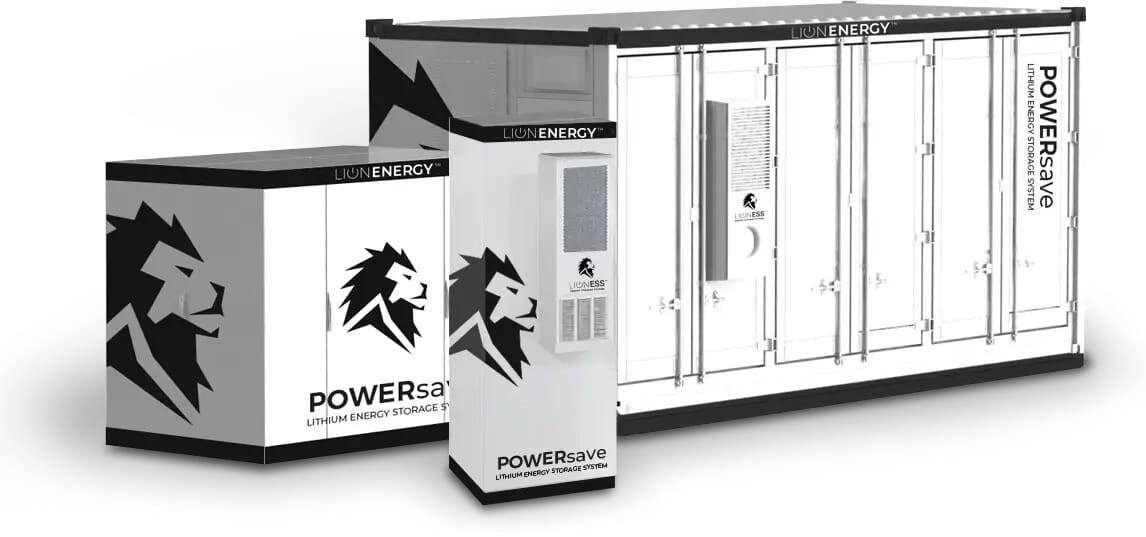 Store energy from solar, grid, wind, etc. and power your business efficiently, at a fraction of the cost. Have peace of mind, knowing that you're prepared for anything.
LionESS provides flexible modular solutions that can be customized to your specific energy needs in CABINET, CONTAINER, or CONTROL BUILDING configurations known as POWERsave solutions.
"Lion Energy POWERsave systems are raising the bar on what the C&I/utility industry can do. Well engineered and manufactured. Saving money and preparing for the unexpected."
- Tom Tolman
VP of Emerging Markets

Safe and Reliable Hardware
With over a decade of energy storage experience, Lion Energy understands and uses only the safest and longest lasting componets. With thousands of units in the market, we have developed a proven track record of safe, reliable hardware operations in the field.
Our enclosures and modular platforms provide the optimal working conditions for batteries to thrive. Each enclosure comes fully integrated with HVAC, gas detection, fire suppression, DC Collection, AC panel, and communications.
Unprecedented Visibility and Control
LionESS advance technology is designed for energy storage applications that monitors and controls the Energy Management System (EMS) and Battery Management System (BMS) functionality into a single platform. We provide our customers with full control and transparency of the entire system.
A LionESS system can immediately react to power interruptions, provide continuous power, and stabilize the grid. It can also ensure voltage stability, maintaining its level within the specified range.
Power System
Recovery Capability
Based on battery storage, a LionESS enabled solution can restart after a total shutdown without using external electricity networks. The fast response time of the LionESS technology helps systems recover in the shortest time possible.
Supply backup power in case of an electrical grid failure until complete power is restored. By operating as an uninterruptible power supply (UPS), LionESS technology can save time and money by eliminating downtime.
Energy Time-Shift (Arbitrage)
Balance loads between on-peak and off-peak times. Accumulate energy when the demand is low and discharge stored energy during peak times, saving money.
Renewable Energy Integration
Integrating the LionESS technology with renewable energy sources opens the door to inexpensive electricity continuously available to on-grid, off-grid, and hybrid systems.
Respond to utliity signals when energy demands are high to earn money.
Generate, store, and manage energy with or without a connection to the grid.
Lithium Iron Phosphate is the safest chemistry on the market because it does not emit any toxic fumes or gases. Lithium Iron Phosphate is the highest grade, safest battery composition available and has no potentially volatile chemistry.
---
Utility Grid, Sub Stations
FEMA / Gov Disaster Relief
Solar / Wind Off-Grid Power
Lithium Iron Phosphate battery cells convert chemical energy into electrical energy. The cells are arranged in modules that form battery packs
Battery Management System (BMS) - ensure the safety of the battery system. It monitors the condition of the battery cells, measures their parameters and states, such as state-of-charge (SOC) and state-of-health (SOH) and protects batteries from fires and other hazards.
Inverter or Power Conversion System (PCS) - converts direct current (DC) produced by the batteries into alternating current (AC) supplied to the facilities. The POWERsave has bi-directional capacity that allow for both charging and discharging.
Energy Management System (EMS) is responsible for monitoring and control of the energy flow within the Lion system. It coordinates the work of a BMS, a PCS and other components of an energy storage system. By collecting and analyzing energy data, an EMS can efficiently manage the power resources of the system.
App/Software - With our custom build tech you can see your system you can monititor and adjust your system at anytime to make sure things are optimize at all time.
LionESS Technology
Lithium Ion (Iron Phosphate) Battery System
Battery Management System (BMS)
Inverter or Power Conversion System (PCS)
Energy Management System (EMS)
Software - Control and Customize System
Custom Sizes to Fit Your Needs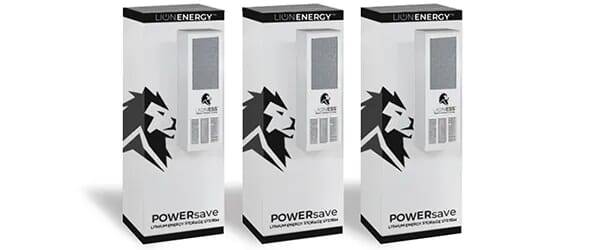 The Cabinet Series for indoor and outdoor C/I energy storage systems help reduce peak energy costs from equipment and operations. Power and capacity range from 30kW/50kWh to 90kW/150kWh. These solutions are modular and expandable to meet larger energy storage requirements.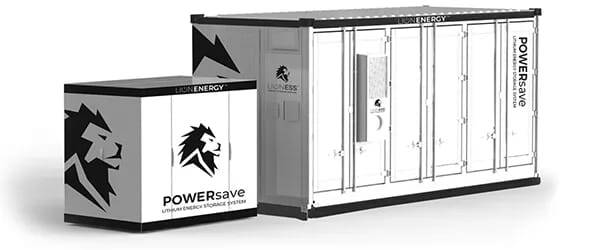 The Container Series are outdoor containerized energy storage systems for utility grid tie or C/I behind the meter applications. They are available in 10ft, 20ft, and 40ft configurations. Power and capacity range from 150kW/150kWh up to 1.5MW/ 2.2MWh. You can combine multiple units for even more capacity.