Boost the watt-hours of your Lion Energy Safari with the Safari Expansion Pack (XP).
Lion Energy Safari Expansion Pack (XP)
50170142 : 50170147
NOTE: NOT COMPATIBLE WITH THE SAFARI ME. FOR THE SAFARI ME EXPANSION PACK, CLICK HERE.
When you need to power things longer, the Safari Expansion Pack™ (Safari-XP) gives you 3X the energy storage capacity than the Safari alone.
More stored energy – 3X the stored energy when you connect the XP expansion pack to the Lion Energy Safari for 4,300Wh total
Easy to connect – Just plug it into the back of the Safari
Maintenance free – Retains charge for up to 1 year
*Must be used with the Lion Safari to have power
LION SAFARI DEEP-DIVE VIDEO
MORE POWER.
MORE VERSATILITY.

Expand the Lion Energy Safari from 1,612 Wh to 4,300 Wh of power, giving you all the portable power you need.
Keep your adventures going with all the power you need.
With the Safari and the Safari XP, plug in anything from power tools, mini-fridge, CPAP, TVs, power tools, blenders, laptops, drones, lamps, to cameras and phones. Keep projects going with all the power you need. The Lion Safari+XP has the the perfect inverter size (3,000 W) with an impressive 4,300 watt-hour lithium iron phoshate battery, allowing you to use your devices for the longest period of time.
PORTABLE
RENEWABLE
LONGER POWER
POWERFUL
FAST CHARGING
DURABLE
MEETS AIRLINE GUIDLINES
LIGHT WEIGHT
RENEWABLE
POWER LONGER
1X 12V AC
2X USB-A
1X USB-C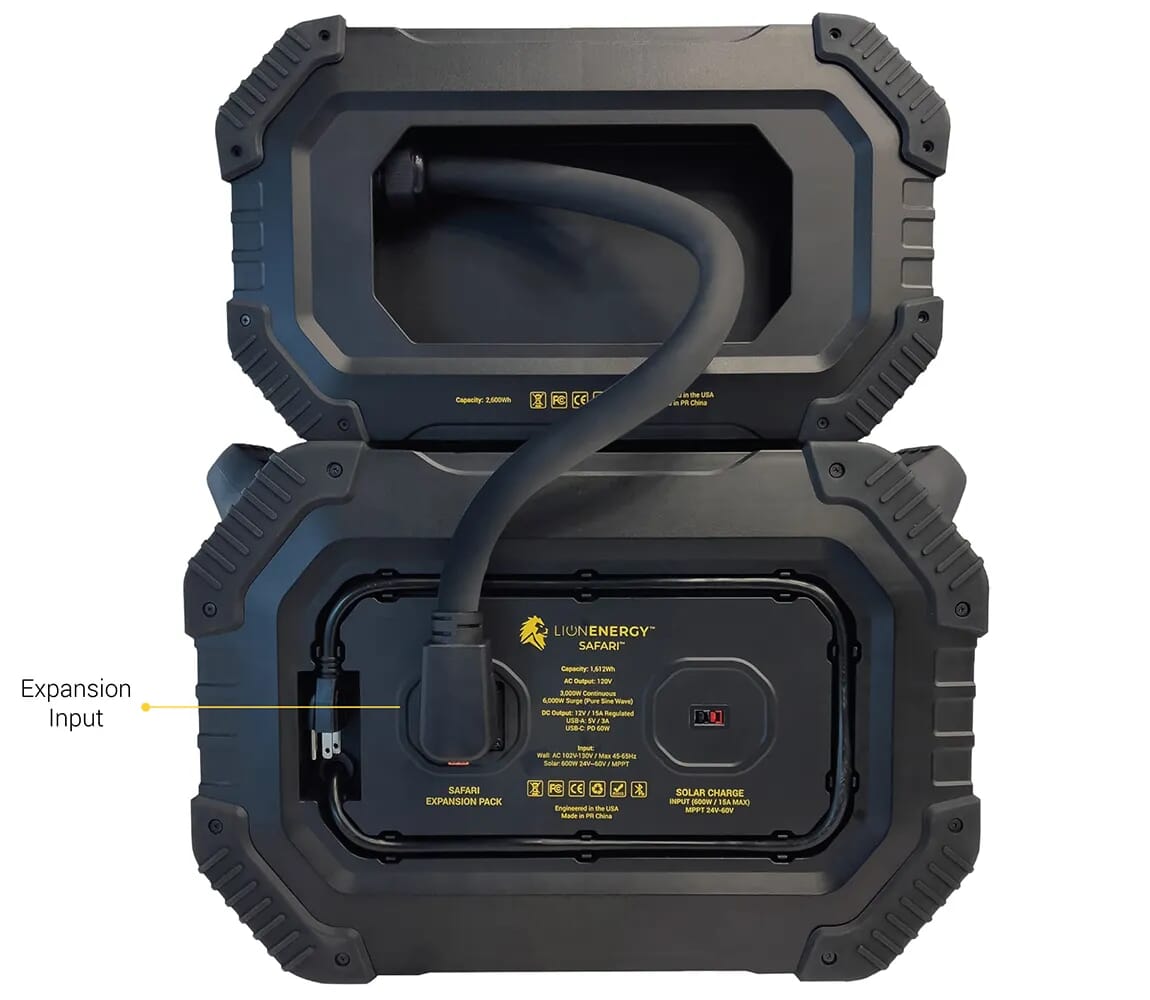 TAKE IT ANYWHERE YOU NEED POWER

PORTABLE

RENEWABLE

LONGER POWER
POWERFUL

FAST CHARGING

DURABLE
ITEM
LION SAFARI + XP
JACKERY 3000 PRO
GOAL ZERO 3000X
BLUETTI AC200MAX
ECOFLO DELTA MAX

Battery Output
continuous / surge (W)