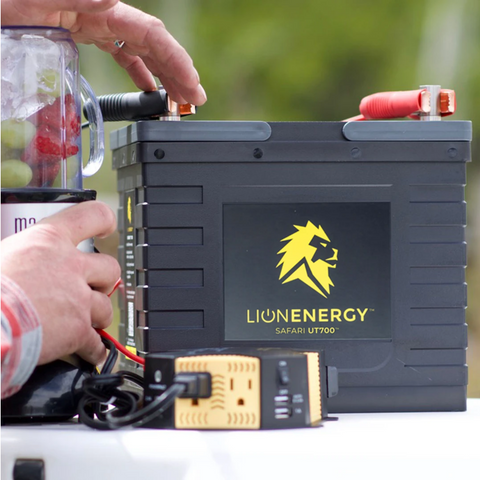 All the Ways You Could Use Lithium-Ion Batteries
So you've heard a bit about lithium-ion batteries. They come in various shapes and sizes—some come as power banks, some as generators, and some look like vehicle batteries. As you started looking into them, you may be wondering if they're really worth the initial cost. Lithium battery solutions provide a great value because they can be used in a variety of ways and they last a long time. 
There are actually lots of lithium-ion battery uses that might not come to mind when you initially learn about them. After all, how much can a battery actually do, right? Well, that depends entirely on the kind of battery, and lithium-ion batteries are incredibly versatile.
Lithium-ion Battery Uses to Try
Camping
One of the most popular ways to use lithium-ion batteries is for camping. A lot of people like to have at least some power with them while they camp, but traditional gas generators are heavy and noisy and require a lot of maintenance. More and more, people are beginning to switch to lithium-ion batteries for their RVs and for portable generators because they are lighter weight, silent, maintenance-free, have more power and last a long time.
Lithium-ion batteries can also be a cleaner energy option than gas generators. To charge a lithium-ion battery, you can connect it to a portable solar panel for constant energy. As the sun moves, the solar panel can too. 
Some lithium-ion batteries are made to power RVs and boats, which also makes them the perfect companions for camping. These batteries are lighter weight, gives you 2X the camping time, and are maintenance free‒not so with lead-acid batteries. With just a quick, easy replacement, you can save yourself a lot of trouble while camping.
Getting Off the Grid
Another popular lithium-ion battery use is getting off the grid. Most lithium-ion batteries aren't strong enough to power an entire home (there are home lithium energy storing systems that pack loads of power for a home). However, even without a home energy storing system, lithium-ion batteries can help power your home by supporting some appliances or electricity in your home so you don't have to rely on the grid so much. You can even get DIY solar kits that are easy to use and provide a good source of energy from the sun.
As lithium-ion technology continues to advance, it will become more common to use this technology for home energy storage. Utilizing lithium-ion batteries for off-the-grid use does require the use of solar panels to support the energy storage system, so if you live somewhere that doesn't get lots of sun year-round, you might only be able to use this kind of system for part of the year. But that's several months without electric bills, so it's worth checking into. 
Emergency Power
Not everyone thinks of emergency prep as one of the many lithium-ion battery uses, but these batteries are actually one of the best options for emergency backup power. Good lithium-ion batteries can give you a lot of power – at least enough to charge your devices for several days – and can hold an unused charge for up to a full year. 
These batteries are always ready to go, and many of them are very portable as well, so you can easily move them around your home or take them with you if you need to evacuate your home. They usually come as portable power units or lithium generators. Emergencies often catch us all off guard, so making sure you have all the supplies you need – including power – is the best way to keep your family safe. 
Tailgating
A good tailgate needs power – power to cook the food, power to keep drinks cold, even power to run TVs for all the pre-game shows. And what better way to do that than an easy to carry, silent power source to keep everything going for hours? 
Lithium-ion batteries are a great answer for any tailgate power problems. They can keep TVs going for 5-12 hours (depending on the battery strength). They can power minifridges, phones, grills, and whatever else you may need for the party. And they are silent and don't emit any fumes or gases. If you're trying to run all of this at once, you will need more than one battery to keep it all running at its best, but having solar panels handy can help keep batteries charged longer as well. 
Travel
Do you ever need small portable power when you travel? Honestly, most of us do. Some places, like airports, have charging stations available, but they are usually overwhelmed by other travelers. It would be a lot easier if you could have your own portable charging station. 
Now, there are really small travel batteries that are handy for things like this, but they're usually only capable of charging a phone. If you have any larger devices that also need charging, like a laptop, those batteries might run out of juice quickly. So instead of risking that, pick a lithium-ion power unit that is still small and easy to carry, but that packs a lot more power and versatility. With multiple types of outputs and the extremely light weight (less than 3 pounds), there's never been a better portable charging station. 
Car Safety
One of the most practical lithium-ion battery uses is car safety. Nothing is more frustrating than having troubles with your car battery or tire pressure when help isn't nearby. Rather than worry about whether or not you might have this car trouble, try keeping a lithium-ion jumper in your car. It's a small power station capable of restarting your car, and one of these jumpers even works as an air compressor, flashlight and USB power bank. 
Shed Power
Connecting a shed to your home power grid isn't always easy. In fact, it can be a total hassle and costly. So rather than trying to do that, another option is to use lithium-ion batteries. By placing a solar panel or two on the roof of the shed, you can place the battery inside and run the connecting cables inside as well. The panels will keep the battery fully charged so when you need power for your outdoor work, it's always ready for use. 
Get Started With Lion Energy
Lion Energy has created some of the best and most versatile lithium-ion batteries and power stations on the market. There are so many ways and places to use these batteries. If you aren't sure about spending a lot of money on big batteries, start testing lithium-ion batteries with the small portable ones. These smaller batteries are much more affordable and versatile. You won't find a better place to start trying lithium-ion batteries than Lion Energy. Check them out at www.lionenergy.com