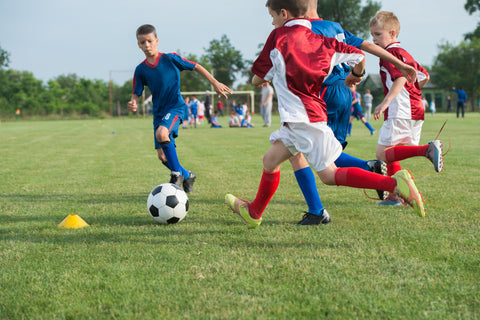 Portable Backup Batteries for the Busy Soccer Parent
Listen - you know your kids' soccer seasons are coming up. And you know that means your schedule is about to be taken over with sitting on the sidelines, cheering your kids on, taking your kids to and from practice, and driving all over the place to attend games. It can be a lot of fun, but it can be pretty stressful as well. And when you find yourself with a dead phone, tablet, or laptop when you need it most, it can be truly frustrating. Even worse, you might run into car trouble, and that's when the stress hits the hardest.
There's no reason to make yourself deal with more stress than you absolutely have to, so get yourself some portable backup batteries so you have a few less things to stress about. If you aren't sure which batteries will be most helpful, here are some ideas:
Lion Prowler and Lion Eclipse
Sometimes when you leave the house with all your kids, your phone doesn't quite make it through the day. Sure, you can charge your phone in your car, but when you're in and out of the car for appointments and errands and chauffeuring your kids, you don't want to constantly plugin and unplug your phone. It would be a whole lot simpler to have a way to charge your phone while also carrying it around in your bag or pocket. 
That's when power banks like the Lion Prowler and the Lion Eclipse come in handy. Both of these power banks give you the option of USB charging or wireless charging. The biggest difference between the Prowler and the Eclipse is that the Eclipse is capable of wirelessly charging three devices at once while the Prowler can only wirelessly charge one device at a time.
Taxi Parent Kit
The Taxi Parent Kit is designed with parents just like you in mind - parents who are busy and on-the-go, doing their best to help their kids have great lives. This kit has all the portable backup battery essentials you need to keep you and your kids going everywhere you need to be.
Lion Cub GO
Let's start with the Lion Cub GO. As the smallest portable backup battery in this kit, it's arguably the most convenient and useful addition to the Taxi Parent Kit. It's about a foot long, weighs less than 3 pounds, and fits easily into almost any bag and even into some pockets without trouble. 
Even though it's a relatively small battery, the Cub GO is actually incredibly powerful and is the strongest battery allowed on airplanes. And because it has an AC output, two USB outputs, and one 12 V output, it's versatile enough to charge just about any device you need. It's even powerful enough to power a full-size TV if needed. 
Because you can take this battery with you anywhere, you don't have to worry anymore about your phone dying while you're trying to video your daughter on the field. You don't have to worry that your kids won't have the entertainment they need in the car. Instead, you'll always have a handy backup ready to go. And hey, as a bonus, the Cub GO has a built-in flashlight, so when someone loses their phone under a seat in the car, you can find it much easier. 
Lion Safari LT
As useful as the Cub GO is, it might not always have enough power or enough outputs for your needs. This is especially true when you have to drive a few hours to get to a game and the kids all have devices that need to be charged along the way. That's why the Parent Taxi Kit includes the Lion Safari LT.
The Safari LT also has a big capacity for its small size as well (11 pounds). It includes two AC outputs, four USB outputs, and two 12 Volt outputs, so it has even more versatility than the Cub GO has. It's easy to keep in your car for whenever you need it, and once it's charged, it can hold the charge for up to a year without "leaking" the power. That means, even if you don't use it often, it will still be ready to go when you do need it. 
While the Safari LT makes a great portable backup battery, it's also handy to have around for emergency situations. You'll appreciate the security it gives you when a bad storm hits and knocks out the power or if you have to evacuate to avoid a natural disaster. This battery is really peace of mind that you didn't know you needed. 
The Safari LT can also charge with solar power, so if you connect it to a portable solar panel, you can charge the battery while you're at a game. That's actually part of what makes this battery such a great portable option - it can even charge on-the-go. 
Lion Cub JC
An important part of the soccer season is your car. You have to shuffle kids from one practice to another and drive to games all over the place. And if your car's battery or tires give out on you, you're in a bad spot. Frankly, car trouble isn't something you have time for when you have kids waiting on you to pick them up or drop them off. 
It is, of course, useful to have a charged phone at times like this, but even better is a tool that can quickly fix your car and get you on your way again without you waiting for help. That tool is the Lion Cub JC, a portable jump starter that's also part of the Taxi Parent Kit. 
The Cub JC can jump-start your car's battery in just a few minutes with the included jumper cables, and you don't even need another car around to do it. The JC can store enough power to restart your car with no problems. 
There's definitely more to the Cub JC than just jump-starting cars. To make it even more useful to parents like you, the JC also includes an air compressor, a built-in flashlight, and it can charge your USB devices in the meantime. 
If you're looking for reliable portable backup batteries to get you through your runaround schedule this year, Lion Energy has the battery solutions you need. Check out all our best solutions today so you're ready for whatever tomorrow brings.