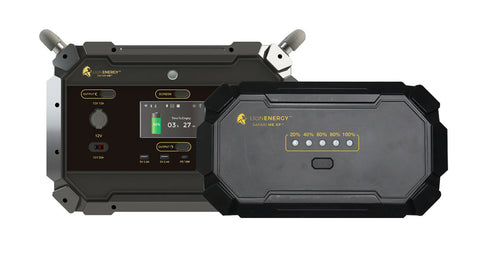 Best Backup Power Supplies for the Unexpected Emergency
Recently, the United States has been hit with unexpected polar vortexes that led to record-low temperatures. The cold temperatures brought on power outages, broken pipes, and shutdowns, among other problems. It was exactly the kind of situation people never see coming, so when it came, not everyone was ready for it. 
One of the biggest problems ended up being the power outages. People didn't have the power to keep their homes and families warm. And many people didn't have a backup power supply to help them get through the power outages. 
Whether or not you find yourself in this exact situation, it was a good reminder to all of us that we need to be prepared for unexpected emergencies. Having a backup power supply is one of the best (and most underrated) measures you can take for your emergency preparation.
How Prepared Are You for Unexpected Emergencies?
What have you done to prepare for the next emergency? You know it's coming.
Emergency situations can happen all over the country, so don't assume you're in a place that's immune from potential disasters. No matter how unlikely an emergency may seem (from a natural disaster to a pandemic), you need to be prepared.
Emergency supplies should include food, water, blankets, clothes, light, first aid and power. There are some people who make extensive preparations, and if that's something you want to do, go for it. But at a minimum, you need these would be the essentials. You'll also want to make sure you have supplies in your home and in your vehicle (if you have one). 
Power may seem like the most difficult thing on the list to find. After all, you can't use a gas generator inside of your home, and lead-acid batteries need so much maintenance that they aren't a great option either. But you need power to keep your phones charged, to cook (if you have food that needs to be cooked), and to keep your family at a safe temperature and in touch. 
Luckily, finding a backup power supply isn't as difficult as it might seem. 
Backup Power Supplies to Help You Prepare
Lithium-ion batteries actually make the best backup power supplies because they are long-lasting, clean, easy to use, can be used in your home, and are portable. When you're looking for emergency supplies, lithium-ion batteries should be on your list. These top picks are the perfect place to start for emergency backup power supplies.
Lion Safari ME™
The Lion Safari ME is a professional grade lithium-ion battery that you can easily use and store in your home or on the go. It can be an everyday use so you're not tethered to the wall outlet and is a great source of emergency power. It can power virtually anything you can plug into a standard wall outlet.
For emergencies, this really is the best lithium-ion battery option for a backup power supply because it's capable of powering so much for relatively long periods of time. For perspective, the longest any other battery on this list could power a TV is for about 5 hours, but the Safari ME is capable of powering a TV for 12 hours, and that doesn't even count the optional expansion battery for the ME called the Safari XP. When combined, it will give you 3X the amount of time you can power a device. 
Now, you can also power appliances in your home like your fridge for a few hours or to keep your laptops and phones charged. The ME can charge a phone about 92 times on a single charge, so it could keep you going and connected for days if needed. 
You can charge the Safari ME from a wall outlet or with solar panels. It takes less than two hours to charge and can hold that charge (if not in use) for up to a year. It also features two AC outputs, two USB-A outputs, two USB-C outputs, and two different 12V outputs, so it can connect to and power almost any appliance or device you own. It can output up to 2,000W continuously and has a 4,000W surge. This lithium solar generator is a must have, portable power workhorse.
Lion Safari LT™
The Lion Safari LT is just as versatile as the Safari ME with two AC outputs, four USB outputs, and two 12V outputs. It's also smaller and a lighter weight (about 11 pounds) than the ME, so it's easier to move around the house or take in a vehicle. 
The Safari LT doesn't, however, hold as much stored energy as the ME. Despite that, it can still power a TV for about 5 hours or charge a phone about 25 times and power CPAP machines through the night. So even with less power (it has 500W of output and 450Wh of stored energy), it can easily keep you going for a few days. Plus, because it's more affordable than the ME, you can have more than one for a better backup power supply.
The fact that the LT is so lightweight but it can still pack a lot of power, makes it ideal for emergency situations. Whether you need to stay home or evacuate, the Safari LT will be easy to have on hand so you can have all of your devices ready and on hand as well. It can power up to 500W at a time and can be recharged using the 12V cigarette lighter plug in our vehicle, from the wall or from optional solar panels.
Lion Cub GO™
The Lion Cub GO is a much smaller portable lithium-ion battery, but even though it doesn't hold as much power as the Safari LT and the Safari ME, we still think it's worth having in your backup power supply. This is especially true if you have big things that need power as well as your smaller devices. You could use the bigger batteries to power your bigger appliances while using the Cub GO for your smaller devices. 
See, the Cub GO is designed for maximum portability. It's only about a foot long and weighs less than 3 pounds, so even your kids could carry one of these in their backpacks. In fact, it could be useful for everyone in the family to have their own Cub GO for their devices. The Cub GO can charge a phone for up to 18 hours, so if phones aren't overused, the GO can keep phones running for a couple of days. It also has a 3 stage flashlight built in and can output to USB, 12V and AC. It has 150W of output and 120Wh of stored energy. It can be recharged from the wall or with an optional solar panel.
Preparing for emergencies isn't always simple, but putting together a backup power supply doesn't have to be difficult. When you choose the right Lion Energy portable power units, you know that you'll have reliable power right when you need it most. Check them out at www.lionenergy.com