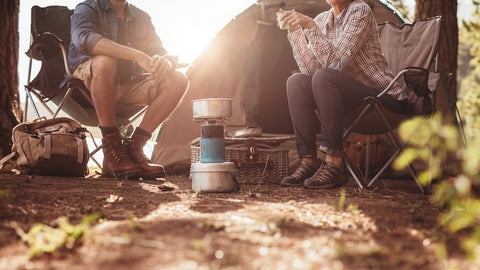 Handy Items for Camping Off the Grid
Summer is prime time for seasoned outdoorsmen, and the rewards of time spent in the wilderness are priceless. Nothing beats that feeling of driving down a dirt road and finding the perfect camping spot far away from the hustle and bustle of city life. 
Whether you're a thrill-seeker looking for remote camping spots in the Uinta mountains or a mellow camper on a luxury resort campground in your RV, you need to have the right adventure gear. Otherwise, your camping trip can go awry. 
From your coffee pot and smartphone to bigger appliances like your mini fridge, you'll need a few camping gadgets if you want to enjoy electricity off the grid.
Here's our rundown of some handy camping gear that you never knew you needed – until now.
Take Power With You on Your Off-Grid Camping Adventure
Silent, Portable Power Generators for Camping 
Your camping adventure doesn't have to suffer in silence. The whole camping adventure will get a massive boost if you have a reliable portable generator to power your various gadgets and electronics. Here are the smallest, quietest, and most durable portable camping generators. 
Sarafi LT™
With the highest power output available for a generator this size, the Safari LT is equipped with all the charging ports you could ever need. Two AC outlets, three full power USB ports, and USB-C output, you can keep your devices charged up and ready. Plug in Traeger grills, phones, drones, hot plates, computers, and everything in between. 
Durability is at the forefront of this solar charger's design. Integrated corner bumpers and a lighted LED screen make this the burliest solar power generator ever. Despite its durable case, the Safari LT is compact and lightweight, weighing just over 10 pounds. Safari LT's battery technology holds a charge for an entire year and is designed to recharge through traditional AC power or a solar panel - no complicated inverter setup or surge monitoring to worry about. 
A silent and renewable alternative for gas-based generators, the Safari LT emits no emissions and has no carbon footprint. Lion Energy's safe and reliable power units help you prepare for emergencies and power your weekend adventures. From dusk to dawn, the Safari LT can charge tools, run lights, cook meals, and provide you the power you need.
Lion Cub GO™
Want something more lightweight? 
Enter the Lion Cub GO.
With its lightweight design, this generator can easily fit in your pocket or backpack without sacrificing your other camping gear. It's only 10.3 inches long, 4.5 inches wide, and 1.8 inches thick. Weighing in at just 3 pounds, it's even lighter than the already lightweight Safari LT. The Lion Cub GO is the smallest portable generator with an AC, USB, and 12V output. 
When you're way out in the middle of the National Forest and there aren't any lights, the Lion Cub GO works as a security device, a phone charger, a flashlight, or an SOS beacon.
Seriously, the Lion Cub GO is a lifesaver. And it's rechargeable, so there's no need to search for small, hard-to-find batteries. It can be charged with a solar panel or traditional wall outlets.
As a completely silent generator, you may forget it's even there. Now you can enjoy the sounds of the wilderness without hearing the roar of the generator in the background.  
Solar Panels
No matter how many batteries or power generators you have, they will need to be charged at some point. Short of driving to a campground and plugging in, the best way to recharge your generator is by harnessing the power of the sun.
There are several benefits to solar or renewable energy: infinite availability, decrease in pollution, public health, protecting finite natural resources, availability during droughts or heat waves, massive energy cost savings, and long-term savings.
The Lion 100™ watt solar panel for the Safari LT is made up of robust tempered glass or cells, surrounded with a rust-proof aluminum enclosure, which means it's ready for everything you can throw at it. Take it through the desert landscape, to the mountain tops, or wherever you need power. As a final cherry on top, it's equipped with a carrying handle and adjustable legs that allow you to keep the panel pointed directly at the sun for optimal solar charging. It's as easy as opening a book. 
The GO 20™ watt solar panel is for the Cub GO and is similar to the Lion 100, only smaller.l  
Extension Cords
Our 25 ft. 30A extension cords are a must with our Lion 100 solar panel. This 30A Anderson cable will make sure that you can get your solar energy back into your generator, wherever the sun is shining. Keep your power unit in the shade while you position your solar panels in the sun.
LED Lights
LED bulbs are especially handy as camping lights thanks to their efficiency. Did you know that LED bulbs use up to 90% less energy than traditional bulbs? Other benefits of LEDs are that they don't produce heat and they last up to 50 times longer than a typical incandescent bulb. In fact, if they're properly taken care of, they'll last for what seems like forever. They require nearly no power to get turned on in the first place.
If you're sleeping in a tent or have an RV awning without pre-equipped LED rope lighting, outdoor camping lights can keep your campsite lit until you hit the hay. Lion Energy's three LED lights are 2 watts each. Each cord has 15 feet with an individual switch.
Other Camping Gear Must-Haves
Now that you've got your power needs covered for your camping trip, you'll need the following roundup of must-have camping gadgets.
Every camping enthusiast knows that a first-aid kit is a must when heading into remote areas. These kits should include everything from painkillers and antiseptic wipes to bandaids and tweezers. 
A survival kit complete with flat drivers, tweezers, hand saw, emergency cord, survival blanket, and fine edge knife is everything you could ever need on your outdoor adventures.
Choosing the right backpack can make or break a camping trip. Make sure to find one with two strong shoulder straps and enough pockets to store your electronic devices.
If you take your camping trips seriously, make sure to bring easy-to-pack, lightweight cooking gear. Look for compact, multi-piece set that includes folding tools, a cutting board, spice shakers, and utility knife. 
Shop Lion Energy's Off Grid Camping Package
Getting out in the backcountry or on the beach doesn't mean you have to completely rough it. 
Technology is ready to join you on your camping trips. Take power with you with the Lion Off the Grid package. It provides safe, silent, portable power for your cooking, communication and entertainment needs.