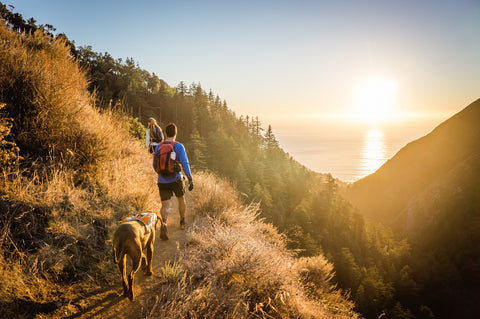 How to Be a Respectful and Sustainable Hiker
When you're ready to relish in the solitude of the great outdoors, it's important to be mindful of the precious land that you share with other humans and animals. 
If a hike sounds like your next outdoor adventure, read on to find out how to make it responsible and sustainable. 
Tips for Healthy and Sustainable Hiking
Plan and prepare.                  
Being adequately prepared means you're less likely to run into problems. Before hitting the trailhead, do your research about your destination so you can prepare for the regulations, weather, and particular concerns. If the purpose hike is alone time to clear your head, make sure to schedule the time of your trip accordingly and let someone know where you're going. Last but not least, repackage food to minimize waste.
Stay on the trail.
Perhaps the most important thing you can do during your hike is to stay on the marked trail. Staying on the designated pathways ensures that the habitat and ecosystems remain undisturbed. There's another reason to stay on the path -- safety. If the weather turns for the worse after you veer off the trial, you may find yourself in a dangerous situation. One wrong step can be disastrous.
Dispose of waste properly. 
Leaving waste behind will undoubtedly impact the habitat, water, wildlife, and other people. Any user of public lands has a responsibility to clean up and inspect their campsites and rest areas for trash or spilled food. Leave the site better than when you found it.
Minimize campfire impacts.
You've hiked 8 miles to the peak of your favorite camping spot. Now it's time to take a load off and cook dinner over your campfire. After all, camping isn't complete without a campfire. It brings self-sufficiency, survival, and comfort. But before heading out on a wilderness adventure, decide whether you want to use campfires or stoves. Here are a few factors to consider when making your decision:
Fire Danger 

Fire Restrictions

Fuel Availability

Group Skills 
To reduce the impact of the area, use existing fire rings in an established campsite. If there is no fire ring, build a mound fire. Only build fires just large enough to cook the food and feed it fuel as needed. Once it's time to put out the fire, burn all wood to ash to prevent chunks of partially burned wood from scattering throughout your campsite. When the coals have burned to ash, soak with water to make sure it's entirely out. 
A fire pan is a good alternative to a traditional campfire. Metal oil drain pans and some backyard barbecue grills make safe, effective, and inexpensive fire pans. The pan should be elevated on rocks, so the heat does not scorch the ground.
A true "Leave No Trace" fire shows no evidence of having ever been there in the first place. 
Be considerate of other visitors.
Since most hikers like being out in the wilderness because of the peace and quiet, it's important to be mindful and courteous of others by using a voice more befitting of the natural environment. Unreasonable noise, rowdy pets, and damaged surroundings take away from the natural allure of the wilderness.
Another way to be considerate of others on the trail is to know hiking etiquette and hierarchy. On a narrow trail, hikers headed downhill will step aside to allow an uphill foot traveler to pass quickly. Depending on where you are, hikers will yield to equestrians and bicyclists on trails. Before passing others, announce your presence and continue with caution.
Bring a BPA-free reusable water bottle. 
Water is essential to bring on any hiking expedition, whether it's a leisurely stroll or strenuous hike. But don't just bring any water bottle from your local gas station. Since plastic bottles have taken over our oceans and landfills, bring along your own BPA-free reusable water bottle. Not only are they better for the environment, but they're also a lot cheaper in the long run. Plus, tap water is tested by local, state, and federal agencies, so drinking from a reusable bottle is just as safe and clean than bottled water.
Use public transportation. 
If possible, use public transportation as an environmentally-friendly way to travel. If a bus or train isn't readily available, consider carpooling, walking, or biking to reduce your carbon footprint while saving your money. 
Gear up with the Lion Energy's Solo Expedition Kit
Whether you're hiking to the peak of the mountain or just strolling through the park, Lion Energy™ provides you power.
When hitting the hiking trails, don't forget to pack the following essentials:
Lion Cub GO™
As the lightest power generator on the market, the Lion Cub Go is easy to bring along with you on even the most strenuous of hikes. 
For a generator to have the title of the best portable generator, it can't get in the way of your hearing the sweet sounds of nature. Switching to the Lion Cub GO generator will make it easy to listen to the chirping of the birds, the rustle of the leaves, or crash of the ocean waves while still having the power to charge your phone, laptop or other USB devices. 
Lion Cub GO 20™ Watt Solar Panel
This small, portable solar panel can charge the Lion Cub GO power unit and smaller USB devices directly. It comes with a built-in 11.8" dual USB cord and two USB outputs. Weighing in at only 4 pounds, this solar panel is easy to grab and go and use it outside anywhere the sun is shining directly.
Lion Cub Mini-Spark™ Jump Starter
Small enough to fit in your pocket, the mini-spark jump starter is powerful enough to jump-start your car, light trucks, RVs, ATVs, lawn mowers, boats, and even a small airplane. And the Mini Spark will do a lot more than jump-start your vehicle. It will also charge phones, tablets, ham radios or anything that can charge from a USB cable. Recharge the Mini Spark from the wall or the 12-volt plug in your car in about 3 hours and holds a charge for up to 3 months.
Next time you explore off the beaten path, trust Lion Energy to power your adventure.