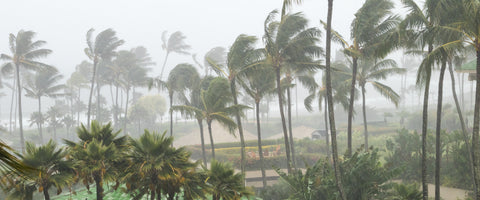 How to be Ready For Hurricane Season
Roaring winds, torrential downpours, lengthy power outages. Hurricane season has officially begun, and we've already started to see tropical storms and cyclones in the Atlantic. 
Don't get caught by mother nature. To help those living in hurricane-prone areas feel better prepared for these life-threatening storms, here are our safety and recovery tips.
Hurricane Emergency Preparation Guide
Assemble an emergency preparedness kit.
Since mother nature can be unpredictable, you need to stay prepared to avoid getting caught without power in the wake of her wrath. The Lion Disaster Relief kit/package provides power to you and your family when a hurricane makes landfall and damages the power grid. This comprehensive emergency kit brings lights, communication, and peace of mind.
The package includes:
2 x Lion Safari LT
After days without the necessities we often take for granted, you'll be begging for a backup power unit. But not all power units are created equal. You'll need a portable energy unit that's lightweight with an unbelievable battery. Unsure where to find one? Well, you're in luck. Less weight and more power are what make the Safari LT. It weighs just 10 pounds, so you can easily take it with you in your go-bag. With a lifetime of more than 1000 charge cycles, the Safari LT can be killed and recharged over and over.
4 x Lion Cub GO
Need something even more lightweight? The Lion Cub GO is the smallest portable power unit with a full-size wall outlet, which means anything you'd plug into a wall can plug in the power unit. Keep your phone charged, refrigerator cold, and lights on with the help of this powerful generator. 
It's only 3 pounds, which is less than a gallon of water. Even better? It's only 10.3 inches long, 4.5 inches wide, and 1.8 inches thick.
Tip: Never use a gasoline generator inside homes, garages, crawlspaces, sheds, or other small areas. Dangerous levels of carbon monoxide can build up in these areas and linger for hours.
4 x GO 20
In the midst of a natural disaster or emergency, renewable energy in the form of solar panels is the best choice. Our GO 20 is a small, portable solar panel that charges the Lion Cub GO power unit and smaller USB devices directly. It comes equipped with a built-in 11.8" dual USB cord and two USB outputs. This solar panel weighs only 4.5 pounds, which makes it easy to grab and go.
4 x Lion 100
As beneficial and versatile as the GO 20 is, you may still be looking for a portable renewable energy source with more power for those bigger appliances. 
The Lion 100 solar panel can give you the power you need. As a fold-out solar panel with a stand and handle, it is both portable and efficient, making it a perfect option for your camping, travel, or work needs.
2 x Extension Cables
Don't forget to add extension cables to your emergency preparedness kit. Our 30A Anderson cable will ensure that you can get your solar energy back into your generator, wherever the sun is shining. You can position your solar panels wherever you need without worrying about your cord reaching.
2 x Mini-Spark Jump Starter
Imagine your city has just ordered mandatory evacuations due to the hurricane that's about to make landfall. Unfortunately, you and your family are unable to leave because your vehicle won't start. Depending on how far away the storm is, you may be able to call AAA. But when you're in the thick of things, you may be left stranded if you don't have the proper emergency equipment. 
That's where portable jump starters come in. 
Portable jump starters are convenient and small enough to fit in your pocket. Plus, they allow you to jump-start your car without the help of another vehicle, so you have peace of mind everywhere you go during an emergency. Recharge the Mini Spark from the wall or the 12-volt plug in your car in just under three hours. These jump starters will hold a charge for up to 6 months.
4 x Light Sets
When night falls, and power is nowhere to be found, Lion Energy's light sets are a lifesaver. When the roaring winds knock out the power grid, illuminate your home with a 3-Piece LED light bulb string. Featuring three different sizes, these subtle and stylish lights each have a 15 feet cord with an individual switch. 
More Tips for Hurricane Preparedness
In addition to securing a Lion Energy Disaster Kit, here are some tips for riding out a hurricane.
Keep a supply of sanitary water for cleaning and drinking. 
During and after a hurricane, access to clean water can quickly become a pressing concern. FEMA recommends one gallon of water per person, per day for drinking and sanitation purposes. However, children, nursing mothers, or sick people may require more. Since water supplies can be compromised, make sure the water is stored in a cool, dark place.
Know your evacuation zone.
When a hurricane is approaching a particular area, authorities may call for a recommended or mandatory evacuation. If you live in hurricane-prone areas, make sure to look up whether your area might be evacuated and the route you'll need to take in case this happens. 
Download an emergency app. 
Install the FEMA app to receive real-time alerts from the National Weather Service and locate open emergency shelters in your area. This life-saving app also provides emergency safety tips for more than 20 types of natural disasters, including hurricanes, fires, earthquakes, tornadoes, and more. 
Protect your pets. 
On top of keeping your family safe during and after the storm, you'll need to take the proper steps to protect your cats, dogs, and other beloved animals. After all, they're part of your family too. The American Red Cross suggests assembling an emergency pet kit that includes food, leashes, first aid kit, medications, toys, medical records, and disposable garbage bags. Above all, never leave your tied or chained up, especially outside. 
Survive a Hurricane with the Lion Disaster Relief Kit
Hurricanes can leave a path of destruction in their wake. Don't be unprepared. Stay safe with the Lion Disaster Relief package. Come wind, come rain - you'll never be caught off guard when a disaster strikes.