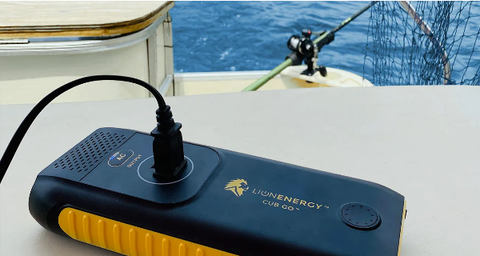 How to Use Portable Power When Traveling
Whether we are in the air for a short or long flight, our thoughts remain the same—how will I pass the time? Maybe you're the type of person who likes to watch movies on their phone, tablet, or laptop, enjoying perusing through the available titles your flight has in stock? Or perhaps you're the type of individual who likes to bring work with them, there's a deadline you'd hate to miss and popping in your headphones to focus sounds ideal as the plane carries you to your destination, listening to nothing but the clacking of your keys.

Lion Energy wants to help you so your plane ride is functional and you can power what you need to. Below, you'll find some of our TSA approved power banks, so that you'll never have to worry about what you'll do when your battery percentage drops but you still need power. 
The Benefits of Lion Energy Portable Power 
No one likes the idea of purchasing a cheap power bank that doesn't deliver as promised? You plug in…and nothing. Despite the fact that you've spent a decent amount of time charging it up so it would be ready for when you needed it. 
Lion Energy provides a different quality of products—safe, silent, renewable, power—that you can count on. There is no gas required, just plug it in, or let in many cases, soak up the sun's rays to charge it up and to get you going. And because there is no gas required to fuel it up, there aren't any harsh fumes while the device is in use, and it has ample power to keep your devices running. You won't hear anything after turning the power unit on so you can focus on your task, rather than be distracted by continuous noise. There is also no maintenance required. These devices can hold charge for several months up to a year. 
So, board that plane confidently as you will have a silent, reliable, and renewable device to power your goods up when you need. You can count on Lion Energy products. 
Lion Prowler
™
The wireless charging abilities of the Lion Prowler are perfect for smartphones and smartwatches. At 1.5 pounds, this TSA approved device also comes with two USB-A ports, one USB-C port, and can withstand tumbles, drops, and spills. It also has a built-in lamp and a flashlight so you don't get left in the dark.
Other Perks: 
1 10W of wireless charging
2 USB-A Ports 5V - 3.1A at 15W
1 USB-C Port 5V - 3A at 15W
Nearly 74Wh
Has a built-in light and flashlight (backed by 9 LEDs)
The Lion Prowler is $70.

Lion Eclipse
™
This small device is powerful, yet convenient. TSA approved, it is a 3-in-1 wireless plus USB charger that fits in your hand or small enough to fit into your purse or carry on. The wireless charger is convenient for charging cell phones, or wireless earbuds. It also possesses two USB-A and one USB-C ports for cable-bound chargeable products like laptops and tablets. And the Eclipse can be quickly recharged in 90 mins so you can use it over and over again.

Other Perks:
3 Wireless Charge 10W/5W/2W
2 USB-A 5V
1 USB-C PD 60W/85W
Just under 100Wh
The Lion Eclipse is $229
Lion Cub GO
™
If you are looking for the maximum amount of portable power you can take with you on a plane, then the Lion Cub GO is just what you're looking for. At less than three pounds, the Lion Cub GO has a USB, 12V car auxiliary outlet, and an AC outlet (most others can't do AC too) and outputs up to 150W at a time and has up to 120Wh of stored energy.

Perfect for charging your laptop, phone, or tablet, never worry again about whether or not your devices will last the duration of your trip. If you opt for the kit, not only will you receive the Lion Cub GO, but with it comes a GO 20 Solar Panel, a 20W panel. The Lion Cub GO takes approximately six to seven hours to charge with solar power.
Other Perks:
Can power 150Watts of power at a time
Can charge an iPhone for 18 hours
Can charge a laptop for 1.3 hours
Has 1000+ charge cycles
Has a charge retention of up to a year
The Lion Cub GO starts at $175. 
GO 20 Solar Panel
Going green has never been easier. Lion Energy believes in renewable, clean energy that keeps you going and powered for longer. Using the rays of the sun is a wonderful way to recharge any of the available solar powered units, including the Cub GO with this 20W solar panel. It also has 2 USB ports on the back so you can use it to directly charge many USB devices. The only downside to this is that it takes longer to power up the items, but it's well worth it.
With the Lion Cub GO kit comes with the GO 20 solar panel. This device itself is small at 4.5 lbs. and is portable. While you cannot take this with you on a plane, you can ensure that the Lion Cub GO does. 
The GO 20 solar panel comes with an 11.8" dual USB cord (from the Lion Cub GO) and two USB outputs. It is a 20W solar panel with monocrystalline cells. The GO 20 solar panel has a life expectancy of 20 years. 
Some other perks:
Rust proof aluminum
Weather sealed glass
8 AMP output
Fast USB charging
The GO 20 Solar Panel: $69 by itself, $199 with the Lion Cub GO kit.

Lion Energy knows you require flexibility in your products, as well as environmentally friendly, convenient, and let's not forget—powerful and safe. And you will find that with either the Lion Prowler, the Lion Eclipse, or the Lion Cub GO. It depends on how large you wish to carry your power. Think of how convenient it'll be to reach down into your carry on and simply plug in and resume your work or movie. Lion Energy wants you to have reliable and continuous energy so you can fly confidently, without having to be tethering to a wall outlet.
Whether you're in the air for a two-hour flight or a ten-hour flight, fly confidently knowing that Lion Energy has exactly what you need so you can enjoy your flight without the stressful surprises of your power source failing. Check out any of our top-quality TSA compatible products to find which one would work best for you at www.lionenergy.com. Enjoy your flight!