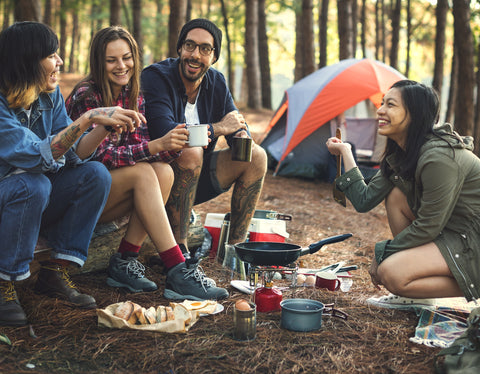 Portable Power Supplies for Camping This Spring
Spring is around the corner, and if you're counting down the days to sunshine, it's also time to start prepping for this year's camping season. This year, to make your experience better, simpler and cleaner, try out a new portable power supply for camping. There are lots of options for power supplies, but we've highlighted just a few options that you might like to try this spring.
Portable Batteries
Lithium batteries are the new camping generator. Or they can be when you combine them with solar power. This combination makes for a clean energy option that you can take anywhere, including mountain getaways, beaches parties or really any adventure. Since the battery is the storage for your portable power supply, let's start by looking at two great camping options:
Lion Safari LT
The Lion Safari LT™ includes a lithium battery that can charge with solar power but can also be charged from a house outlet. Charge it at your house before you leave, and then let the solar power maintain the charge, or just let the solar energy take it the whole way. Either way works.
Some of the advantages of the Safari LT over gas generators are the weight and the noise. The Safari LT weighs only 11 pounds, making it smaller and lighter than most gas generators and it is silent so you don't have any noise. 
Its small size doesn't limit its power though. The Safari LT can power anything from a phone or TV to a mini-fridge or CPAP machine for hours at a time. So no matter what devices you need to charge while you're camping, the Lion Safari LT has you covered. Plus, its size makes it easy to pack into your car. Oh, and you can even charge it using the 12V cigarette lighter in your car!
The Safari LT also features two AC outputs, two 12V outputs, and 4 USB outputs. The easy to read LCD screen displays all the data you need to see how much energy is in the LT, how much is being used and how long it will last at that rate. It's pretty sweet!
Lion Cub GO
It's nice to have a battery that can hold quite a bit of power. But sometimes you need something even smaller and lighter for camping that can still give you the energy you need for your devices. That's what the Lion Cub GO™ is for. 
The Lion Cub GO includes a small portable battery that is about a foot long and weighs less than 3 pounds. Tiny as it is, it still gives you an AC output, a 12V output, and USB outputs so many of your devices can connect to power. Its power is long-lasting as well - it can charge a phone for 18 hours and can power various devices from a lamp to a TV. It can even go on a plane.
Another reason the Lion Cub GO is a great power supply for camping is that it has a built-in flashlight. That means not having to carry a separate flashlight and not having to waste your phone battery on its flashlight. 
If you work remotely and need to take your laptop along, having a couple of Lion Cub GOs around can keep you up to date on your projects even when you're far off the grid. Just switch them out while they charge, or keep them connected to solar power the whole time you're working. The GO can be recharged using solar or traditional wall outlets.
Portable Solar Panels
As great as the batteries are for storing energy, they also need solar panels to be a great portable power supply for camping. A lot of people are familiar with the big home solar panels that attach to the roof, but not as many know that there are smaller solar panels that you can easily carry around with you. Here are two that would be great for camping:
Lion 100W 12V Solar Panel
This foldable solar panel is designed to take on the go. Carry it folded, then when you get to your campsite, unfold it and adjust it to the angle of the sun to get the most power possible out of the panel. Once it's set up, connect the Safari LT to the panel, and you'll have all the power you need for your camping trip.
The Lion 100W 12V solar panel is made with tough, durable materials and is corrosion resistant. And don't worry - it's made to last, so you don't have to replace it every couple of years. At its best, it should last a solid 20 years.
GO 20 Solar Panel
The GO 20 solar panel is made to pair specifically with the Lion Cub GO, but it can also connect directly to other small USB devices. Like the Cub GO, it's the smaller option but still kicks out good power for your devices. The GO 20 weighs only 4.5 pounds and is about 18" X 14" and is only one inch thick. 
While this solar panel won't power large appliances or devices, it will give you the portable power supply you need to be prepared for emergencies while camping. And, when you aren't camping, it will make a great emergency backup solar energy source.
Portable Power Kits
Off-Grid Camping Package
Each of the products on this list would make a great portable power supply for camping. But if you're really looking for the best set of camping energy supplies, you might want to consider the Off-Grid Camping Package. 
This camping package includes the Lion Safari LT battery and the Lion 100W 12V solar panel, along with a 25' solar extension cable and a 15' string of three LED lights. These products come together to give you everything you need for a safe campsite powered with clean energy. 
Pick Your Portable Power Supply for Camping at Lion Energy
As much as camping is about wandering and unplugging, it's also about learning to be prepared for all sorts of situations. Do everything you can to be prepared with a portable power supply for camping, and experience the difference of clean, quiet energy while camping.
Lion Energy™ is dedicated to creating clean, portable power sources so we can look forward to a better tomorrow. From camping power supplies to home emergency power supplies, Lion Energy is working to create the best affordable energy options so alternative energy can be something everyone can use.