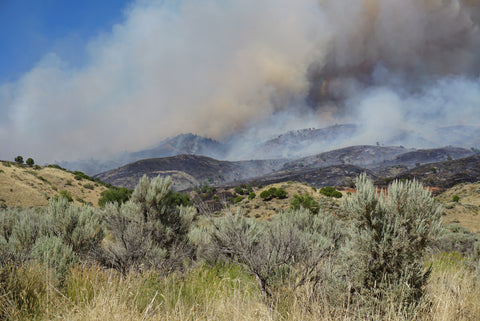 Prepping for Summertime Disasters
Summertime may be a time full of fun and making memories, but it can also be a time when you have to deal with unexpected disasters. The warm weather invites various calamities and making sure you are prepared to face them is essential.
To make sure you're ready for whatever disasters may come this summer, check yourself against our list of things to do to prepare. Preparing for disasters may seem intimidating, but once you know where to start, it's actually pretty simple and it's absolutely worth the effort. So don't wait until a disaster is coming. Be ready to meet it.
How to Prepare for Disasters
1.  Have a Plan
When disasters come, it's much easier to handle them if you have a plan already in place for what you need to do. Have a plan for what you will do if you need to stay at your home and for what you'll do if you need to leave.
For your "staying at home plan," make a list of all the things you need to do before the disaster comes to prepare your house and your family. Hopefully, most of your preparation will already be done, but there may be some last-minute things that need to happen as well, so make sure you're ready to do those things. This plan should include things like where to gather, emergency kits or 72 hour kits, medication needs, water, etc.
For your "evacuation plan," make sure you know ahead of time where you can go to get away and be safe while you wait out the disaster, what you need to do to quickly protect your home while you are gone, and how you will get where you're going. These plans will help you stay calm in the moment and quickly do whatever needs to be done to get ready for the coming disaster.
2. Protect Your House
One of the first things you should do to make sure you and your family will be safe is to make sure your home is protected. Check your house for places of weakness - areas that could let water in, for example, or that might not respond to high levels of wind. Areas like this can be a real risk in an emergency, so make sure to find all of these places.
Once you know about the different areas of your home that need to be fixed or repaired or strengthened, do whatever you need to do to prepare your home. For example, cover your windows with storm shutters, use sandbags to reinforce walls and block flooding, and fill any holes or cracks in your home that could be worsened by a disaster.
Of course, along with protecting your home, you need to make sure your family has a safe place to be during a disaster. For some disasters, you may be able to stay at your home, but you need to make sure that your family will be safe while they stay there. You may want to consider reinforcing one room in your home in particular so that it can resist most disasters and your family can be safe in it. You may even want to store an emergency kit or two in that room.
3. Have a Supply of Food and Water
If you've ever been in a disaster before, you know it doesn't take long for grocery stores to get completely wiped out of food, water and other supplies. So if you want to make sure you're not empty handed when a disaster does come, do what you can to put together a supply of food, water and supplies, like toilet paper, so that if a disaster comes you don't have to worry about going to the store because you already have what you need.
Something you'll want to remember as you're buying food is that you should buy things that will stay good for a long time and that will be easy to make during an emergency, even if there's no electricity. Sometimes during a disaster, it isn't always possible to cook on a stove or in an oven, so food that doesn't need to be cooked is a great option for these sorts of situations.
4. Prepare Emergency Kits
For other emergencies, you may have to leave home quickly. In that situation, you'll want to have emergency kits all ready to go. There isn't a lot of time to gather supplies when an evacuation order comes, so having these kits ready can make all the difference when you need to leave quickly.
Emergency kits should include a change of clothes, a jacket, a blanket, food, water, and a small emergency power supply. Other tools and supplies, like water filtration bottles, can be added if there is space and it isn't too heavy for the person carrying it. Every person in the family should have their own emergency kit. If you have pets that will be coming with you, they should have emergency kits as well with food, water, etc. These kits need to have the essentials and need to be "grab and go".
5. Set Up an Emergency Power Supply
One of the best things you can do to prepare for an emergency is to set up an emergency power supply. Portable power is a great way to do this. As part of your preparation, purchase some lithium-ion batteries or generators that you can keep charged and ready in your home. Some of these can be larger batteries that will give you power at your home if there is a blackout, but you should also have some smaller batteries that can go in emergency kits and in vehicles to give you power if you have to evacuate. Lithium power units or generators come in various sizes and we like the ones from Lion Energy (www.lionenergy.com). 
It's comforting in a disaster to know that you have access to power and can get help if you need it. Making a power supply a priority in your preparations will ensure that you can always have light and essential devices available when you need them.
Prepare With Lion Energy
Lion Energy has quality portable power products that are rugged and durable for any situation. You may want to check out the Disaster Prep Package. This package includes several lithium-ion batteries/power units, several solar panels, a few strings of light bulbs, and a portable car jumper. These products will be more than useful in an emergency - they will be essential in helping you stay connected to the power and devices you need. If you're looking for ways to prepare for disasters this summer, take a look at what Lion Energy has to offer today so you can be ready for tomorrow.