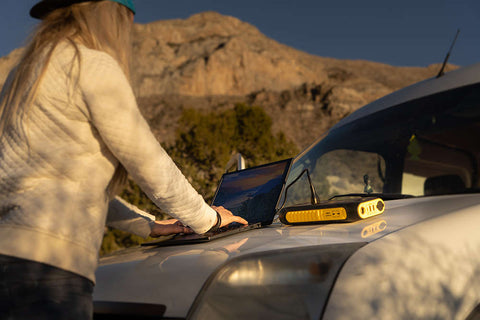 The Best Portable Generator for Tailgating
Who's sick of loud, bulky generators ruining a good tailgate?
Yeah, it's time to change the generators up. Gas powered generators are pretty old-school at this point, so let's get with the times and talk about the best portable generator that'll give you the greatest tailgates you've ever had…
The Lion Cub GO - and here's why.
Favorite Features
When you're tailgating, choosing the best portable generator can make all the difference. Noisy and heavy generators can be annoying, but a generator that gives out? Nothing, repeat, nothing will dampen a pregame tailgate more than a dead generator. Except maybe the grill running out of propane.
So here are some of the features that make the Lion Cub GO the best portable generator for your tailgate.
Easy to Bring Along
The Lion Cub GO is the smallest portable generator with a full-size wall outlet. Yep, full-size. Anything you'd plug into a wall can go in the generator too.
Just how small is it? 3 pounds. Only 3 pounds. That's less than the lightest weights at the gym. Which means bringing the Cub GO along won't be an unplanned workout. Even better? It's only 10.3 inches long, 4.5 inches wide, and 1.8 inches thick.
With its narrow design, subtle coloring, and light weight, this generator is easy to stick in your truck without having to sacrifice your cornhole set or extra cooler.
Keep it Running
With such a small size, you're probably thinking that the Lion Cub GO can't run for long.
Don't make that bet.
The Cub GO runs on battery power, and it's one of the strongest portable batteries you'll find. It can run for hours, even with multiple ports in use (more on those in a minute).
For such a strong battery, it charges pretty quickly. It needs only 6 hours to charge from a regular wall outlet and 3-6 hours with solar energy. So charge it up the night before, and it will easily be ready in time for your tailgate.
Or, if you don't want to rush to charge the Lion Cub GO, charge it a few days early. Or a few weeks. If your next tailgate isn't until next fall, charge the Cub GO now. The battery can retain its charge for up to a year, so after you finish your last tailgate of the season, you can charge up your Cub GO so it's ready for next year.
If you do run the battery dead, no worries. It can be charged from dead more than 1000 times with no issues or damage to the battery
The best portable generator won't have a wimpy battery. It'll be powerful - like the Lion Cub GO.
Sweet, Sweet Silence
You're watching the pregame, chatting with your friends over the grill, and trying to enjoy yourself. But in the background is the non-stop roar of the generator.
If that's you, you have the wrong generator.
For a generator to have the title of the best portable generator, it can't get in the way of you hearing the pregame shows. Switching to the Lion Cub GO generator will make the TV and conversation around you easy to hear.
Because it's completely silent.
Running on battery power and not gas means the Cub GO can run without a sound the entire time it's running. You might even forget it's there. And nothing says best portable generator like not noticing the generator is even running.
Finally, the loudest thing at the tailgate will be your party, not the generator.
Fits Everything
The next important thing to know when choosing the best portable generator is what the generator can be used for. After all, those pocket phone chargers are nice, but they can't do a lot. Your generator needs to handle a lot more to keep up with your tailgate.
The Lion Cub GO boasts an AC Output, a 12 Volt Outlet, and 2 USB Outputs. That means you can use it for your phone, speaker, TV, laptop, blender, mini-fridge, and more. There isn't much that won't connect to the Cub GO.
Other Handy Features
Just in case those top features aren't enough to convince you that the Lion Cub GO is the best generator for your tailgate, here are a few bonus features to sweeten the deal.
Light It Up
When it's getting close to the nighttime game, the sun starts going down and the lights start coming out. Those stadium lights are pretty bright, but if they aren't quite enough to finish out the tailgate, use the Lion Cub GO for light instead.
And no, not talking about a lamp or string of lights here. (Though you could use those with the Cub GO as well. Seriously, best portable generator ever.)
Instead of plugging something into the generator for light, ease up on the cords everywhere and turn on the Cub GO's built-in flashlight. It's way more powerful than any phone light and can keep the party going right up to the game.
Clean energy
The time for high-emissions killing our resources is long past. That may have worked for your parents, but no more of that, okay?
Because there's a better option, and it's clean energy.
The best portable generator for clean energy is the Lion Cub GO, with no emissions and no fuel. Which means that no matter how hard you party at your tailgate, you don't have to feel bad for hurting the environment.
And in case you missed it earlier in the post, let's say again - it can charge with solar energy. Energy doesn't get more clean than this.
Travel
Now, say your team is playing across the country. And you decide that tailgating at home just isn't for you. So, you pack up your bags and head to the airport with some buddies to support your team. Because live games are always more fun than TV games.
And don't worry, your tailgate party won't have to suffer through almost no power. You can take it with you. The Lion Cub GO is small enough to fit in your luggage without any hassle. Even better, it can go on the plane without any security problems. It has the strongest battery currently allowed on airplanes.
Basically, wherever you are, it's safe, it's small, and it can keep a tailgate going all day.