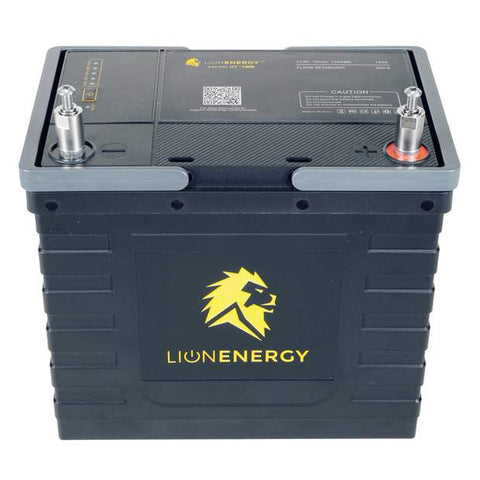 The Safari UT 1300: The Last Battery You'll Ever Buy
Introducing the Safari UT
TM
 1300
Lion Energy is excited to announce the release of the Safari UT 1300, an exciting addition to the Safari batteries that feature lithium-ion technology. The Safari UT 1300 is available to order on lionenergy.com and in select stores starting today.
The Safari UT 1300 replaces traditional deep cycle lead acid batteries with the safest Lithium – Iron Phosphate. It is a "plug and play"– simply remove the deep cycle lead acid battery used for auxiliary power from your RV or boat and replace it with this superior performing battery.
This game-changing lithium battery has zero maintenance and retains a charge for up to two years. It can be drained and recharged over 3,500 times, outlasting any lead-acid battery by years. At Lion Energy, we back up the Safari UT 1300 with a limited lifetime warranty. 
The Lion Energy Safari UT 1300 is maintenance free, meaning you don't have to trickle charge it every 3-4 months, deal with fluids, or remove it from your vehicle and store it for the next season. It holds its charge for up to 2 years and can be recharged through solar or traditional means. It weighs just 23 pounds (compared to 45 to 80 pounds of other batteries) and is the standard Group 24 size. 
No need to worry about emissions, because this lithium battery creates none. The Safari UT 1300 is completely renewable by the sun, which means you can have an unlimited power source in your RV, campers, trailers, or home. The Safari UT 1300 is a great energy storage unit for homes, cabins, sheds, remote locations, and RVs. This battery is ideal for emergencies, work, or play. 
We recommend setting all voltages to 14.6V per UT in series. End amps or tail amps need to be set as low as possible and inverter low voltage needs to be set to 11.5V. Victron and other major inverters charger brands should be set to 13.9V for a 12V inverter and 27.8V for 24V inverters.
Safari UT 1300's Tech Specs
Battery Class: Lithium Ion

Battery Chemistry: LiFePO4 or Lithium Iron Phosphate
(also called LFP or Lithium FerroPhosphate)
Rated Capacity: 12.8V / 105Ah / 1344Wh -

How we Measure

Cycle Life: 3500+ & 100% DoD

Weight:  23 Pounds

Dimensions:  10.2 X 6.6 X 8.8 Inches

Max Charge Rate:  100A

Continuous Discharge Rate: 150A

Operation Temperature: -4 to 131 ºF

Charge Temperature: 32 to 113 ºF

Warranty:  Limited Lifetime (see manual)
The Lion Energy Journey
The Lion Energy journey began in 2001 in American Fork, Utah. Frank Davis initially started this venture to help people prepare for potential emergencies. Lion Energy began selling portable power generators in 2012 and saw an incredible demand for their first generator. In 2014, our total focus became on portable power and quickly became the largest provider of lithium portable power units in the market. Lion Energy has built a foundation upon the principles of unmatched safety, unwavering reliability, and continual renewability advancements. That foundation, coupled with a promise of excellent customer service, has led to a growing brand with an extremely loyal customer base. Lion Energy is committed to a continued focus on providing the best emergency preparedness power, portable solar power for daily use, and home storage power. 
Contact Lion Energy for More Information 
For additional information about our product, contact us today at 801-727-9270 or info@lionenergy.com. We look forward to helping you choose the best portable power solution for your unique situation.