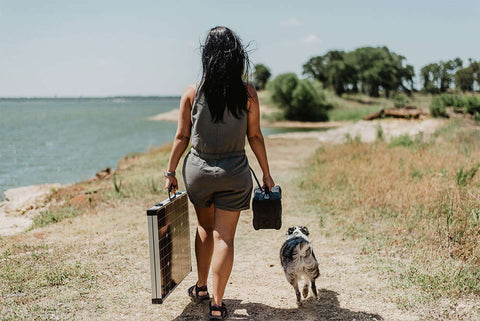 What's Next for Renewable Energy?
Do you ever wish that you could do more with renewable energy sources? Having solar panels to power your house is fantastic, but when you go on roadtrips or camping or even tailgating, you find yourself thinking how useful reliable renewable energy could be in those situations.
But transporting the kind of solar panels that you use on your house isn't really an option. They're too big and secure to be portable.
Finding a portable renewable energy source is simple - when you come to Lion Energy. Our solar panels are made with you and your values in mind. See our options below:
GO 20 Solar Panel
The GO 20, or Cub GO Solar Panel, is the solar panel that will bring you the best power at the smallest size. It pairs with our Lion Cub GO power unit to give you versatile renewable energy wherever you go, be it the slopes of a mountain or Interstate 80.
Check out these details:
Size
Weighing in at 4.5 pounds, the GO 20 is our smallest portable renewable energy source. Not only is it light, but it's only about 18 inches long, 14 inches wide, and 1 inch thick. So if your truck is cramped for space at your tailgate, this solar panel should still be able to slip in easily.
Plus, when you set up for your party, it won't be in the way at all. You can keep it in the back of the truck and you'll barely notice it sitting there during the pregame.
Materials
Renewable energy sources need to be durable, especially the portable ones. Otherwise, the energy source is pretty obsolete.
With this and the need for movability in mind, we've built our GO 20 to be your best fit. It's built with photovoltaic cells protected by air-tight tempered glass. The glass is weather sealed to make it functional in various climates and environments.
Framing the cells and glass is our anti-corrosive (no rusting) aluminum. In rain or shine, this aluminum framing will support your renewable energy without damage.
We're so sure that our materials hold up the best that we give our GO 20 a 20-year life expectancy. You'll have no danger of an electrolytic breakdown. This 20-year lifespan makes the GO 20 a long-lasting, money-saving investment.
Outputs
Being such a small solar panel, you might be wondering if the GO 20 is strong enough and versatile enough to be a beneficial renewable energy source.
The GO 20 is made to charge most, if not all, of your devices with USB outputs and a dual USB cord. So if you need to power your laptop, you can. Your phone? Absolutely. Headphones, watches, tablets, whatever device you need can be charged through this renewable energy source.
As far as maximum volt output, the GO 20 can hit 8 Amps, so when you use it to charge your devices, you won't wait very long to have fully charged batteries again.
The GO 20 isn't just for your devices. It was created specifically to power our portable power unit - the Lion Cub GO.
Cub GO Power Generator
The Lion Cub GO is our little portable power generator, and it sports the strongest battery currently allowed on airplanes. It connects up to our GO 20 solar panel, using the panel as its renewable energy source to give power to all sorts of devices and appliances.
Paired with the Cub GO power generator, the GO 20 can power so much more than your personal devices. The Cub GO includes an AC Output, a 12 Volt Outlet, and 2 USB Outputs, meaning that you can use it to power anything from a TV to a blender and maybe even your massage chair.
And with the GO 20 as the renewable energy source, the Cub GO can stay charged as long as you need it to.
Lion 100 Solar Panel
As useful and versatile as the GO 20 is, you may still be looking for a portable renewable energy source with more power. Something that can give you all the power you need for your week-long camping trip in your RV.
The Lion 100 solar panel can give you the power you need. As a fold-out solar panel with a stand and handle, it is both portable and efficient, making it a perfect option for your camping, travel, or work needs.
Size
The Lion 100 is definitely a larger panel than the GO 20, but is still easily portable. When open, it is 26.5 inches wide, 40 inches long, and 1 inch thick. Folded closed, the length cuts to 20 inches.
At this size, the Lion 100 is only 20 pounds, so you can carry it to the park when you spend the day there or lift it up into your truck's bed without problems.
If you still aren't sure that this solar panel is enough to be your renewable energy source, consider this - you can connect up to four Lion 100s together for even more power on your trip. With that amount of power, you'll be able to use these panels for just about anything.
Materials
We build all our panels with the same rugged and tough materials because you can't get better than this. Containing the same photovoltaic cells and tempered glass as the GO 20, the Lion 100 also has a double-walled structure built of our anti-corrosive aluminum, making it extra durable. Additionally, the Lion 100 has the same 20-year lifespan as the GO 20.
Durability is key to our renewable energy sources. We don't skimp on our materials or the final quality. When you buy a Lion 100, you can be sure that you've purchased a high-quality, long-lasting product.
Outputs
We know that when you take a renewable energy source on the road with you that you want to get a lot of power out of it. So, we've done our best to give you that power.
With a 100 Watt panel, one Lion 100 can give you up to 18 volts of energy. And remember, you can combine up to four of these panels to get even more. Each panel has a 12 volt output to connect to, and includes 6-foot Anderson cord connections.
This kind of power can do anything from charging your devices to charging your RV. It can even be taken to construction sites to clean up the power sources there.
Lion Energy
Finding the right renewable energy sources can be a headache, but when you come to Lion Energy, you'll find the best portable renewable energy sources and products anywhere. We do our best to give you safe, durable, and reliable renewable energy.