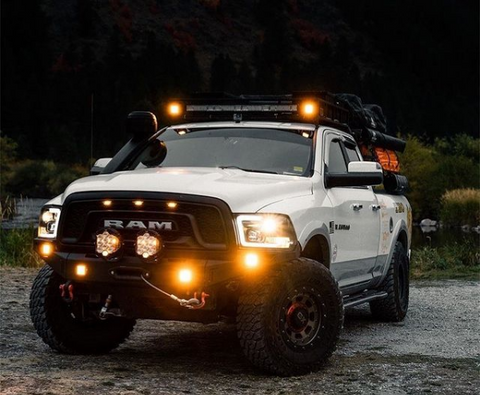 Have You Prepared Your Winter Car Essentials?
Winter is a time a lot of people look forward to - until they have to drive in the snow and ice. With 43 states in the U.S. typically getting at least a few inches of snow during the winter, most of the U.S. population needs to be prepared for snowy driving conditions, even if those conditions are rare. So when you prepare for winter, you need to include a few winter car essentials to make sure you're safe if your car slides off the road. 
5 Winter Car Essentials to Prepare
1. Food and Water
If you find yourself with car troubles during the winter, you might end up stranded for a few hours. One of the best things you can have with you when this happens is food and water, especially if you aren't sure exactly how long you'll be waiting for help to come. 
The food doesn't need to be a full-out meal, though that's never a bad idea. Meals can be handy for any type of emergency that you might encounter away from home. If you put meals in your car, you'll want to make sure the food doesn't have to be cooked and that it is non-perishable.  However, you can also just have a few different snacks in your car and be fine. 
Water is also important because you can use it in a couple of ways. First, of course, is to stay hydrated. Even if it isn't hot and sunny outside, you can still easily get dehydrated in the winter. Staying hydrated will keep your body functioning at its best. Second, you can use the water with any dehydrated food you might have stored in your car. Food and water are important, but there are other essentials you'll need.
2. Blankets and Heat Sources
Another top winter car essential is heat. One of the best ways to stay warm if you're stranded in your car is to have a couple of blankets stored in your trunk. If your family is in the car with you a lot, you'll want several blankets so everyone can stay warm. You could use electric blankets as well if you're really concerned about frigid temperatures. 
Blankets aren't the only option for heat though. It's a good idea to also have other heat sources in your car, like hand warmers and heat packets. If you like winter sports like skiing, you probably have some of these heat packets handy already. Just store them in your car instead of a closet, and you'll be prepared for any cold spell.
3. Car Jumper
Cold weather can be tough for car batteries. They don't function as well when the cold really sets in, so the likelihood of your car's battery dying on you is higher in the winter than it is in the summer. And if your car battery dies when you're away from home, you might be stranded until help can arrive.
But if you'd rather not be stranded because of a dead battery, include a car jumper in your winter car essentials. A good option is the Lion Cub JC, a compact jump starter that weighs less than 5 pounds. 
The reason the Cub JC is a better option than normal jumping cables is that it can jump your car without you needing another car nearby. It stores enough power to jump your car by itself so you can be on your way again without waiting for someone to help you start your car. 
Another handy way to use the Cub JC is as an air compressor. Tire air pressure can fluctuate a lot during the winter, so you'll want to be ready if your tire pressure drops. Of course, there are other tools you need to take care of your tires during the winter, so let's move on to those.
4. Tire Tools
There are several tire tools you'll want to include in your winter essentials. However, before you take your car on the road this winter, consider switching your tires to snow tires. That alone will make a big difference in your safety this winter. 
If you do have tire troubles while driving this winter, make sure you have everything you need to change a tire. Most cars have the jack and other necessary tools already, but it's always good to check. You'll also want to have a pressure gauge handy in case your tire pressure is off and you need to know how much to fill it. 
Sometimes when you're driving in the winter, you might slide off the road and get stuck in a snowbank. When that happens, you'll want a small shovel and some sand or kitty litter. With the shovel in hand, you'll be able to clear out some of the snow around the tires. Once some of the snow is cleared out, you can sprinkle the sand or kitty litter near the tires to give the tires something to grip onto.
5. Light and Power
If you do get stranded or need to call someone for help, you'll want to have portable backup power on hand to keep your phone charged. There are two power units that will be really helpful to you in this situation.
First, the Lion Cub GO. It's a power unit that can easily fit in your purse or pocket but could also easily fit into a seat pocket in your car. It weighs less than 3 pounds so if you do need to carry it, it won't weigh you down at all. It has various output options and can keep a phone charged for 18 hours, which should be more than enough time if you're waiting for help this winter. 
The second power unit that could be helpful is the Lion Safari LT. It's definitely a more powerful battery option than the Cub GO, but it's still fairly lightweight (11 pounds). This battery has two AC outputs, two 12V outputs, and four USB outputs, so you can charge nearly anything that you need with it. The LT could be especially helpful if you have a few people traveling with you who need to keep their devices charged.
Once you have these winter car essentials prepared, you can go into this winter ready for any car trouble or weather you might have to face. Instead of worrying, you'll be able to enjoy every aspect of winter from the sports to the driving.
Rugged design. Longest lasting battery. Fastest charge time. Quietest power generator.