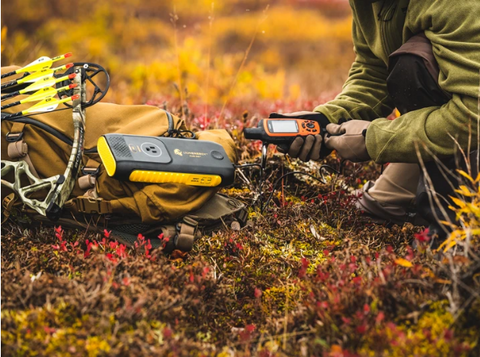 How Clean, Portable Power Can Make a Difference
Have you ever considered what impact you could have if you used more sustainable energy? There are a lot of options for alternative energy these days, but knowing where to start isn't always easy.
Well, it's time to put that questions to rest. See, it might seem like one person switching to a cleaner energy source isn't going to make a difference, but look at it this way - you aren't just one person trying to make a difference. You're one more person trying to make a difference, and you're building on what other people are doing as well. As more and more individuals change to try and make a difference, the difference they're making will be bigger and bigger.
Of course, there's a difference in your life as well when you change to clean energy. And if you aren't sure where to start making the change to clean energy, one of the best places to start is portable power sources. Clean portable power sources like lithium-ion batteries and solar panels are really convenient and easy to incorporate into your life. And you'll be surprised at the difference they can make. 
The Difference in Lithium-ion Portable Power Sources
Lithium-ion batteries are one of the top portable power sources on the market. And when you pair those batteries with solar energy, you have a strong power source that you can rely on long-term. Let's look at a few ways lithium-ion power sources can make a difference in your life and in the world. 
Sustainable
When you combine portable solar panels and lithium-ion technology, you end up with a sustainable energy source that can keep you going for as long as the sun lasts. No matter where you go, you can have access to power. You won't have to worry about dead phone batteries or no backup power anymore. This technology is designed for on-the-go people, and you'll love how convenient it is to charge your devices anywhere you go, whether you're camping, taxiing your kids or on an adventure. 
Sustainable convenience isn't the only consideration though. When you use lithium-ion tech and solar panels, you're helping our planet's resources last longer. It's important that we manage the resources our planet offers so we and future generations can continue living safely and securely. Choosing sustainable energy helps protect those resources and you can be part of making that difference.
Silent
Have you ever used a gas generator for power? They are some of the noisiest portable power sources out there, and they can pollute the environment. However, gas generators were the most realistic portable power source for a long time, so a lot of people just put up with the noise, fumes and lack of sustainability. But you don't have to do that anymore. Lithium-ion batteries and solar panels can give you just as much power as a gas generator, and they are completely silent. Noise pollution is not something we have to deal with anymore. 
Maintenance-free
Another battery option that people use is the lead-acid battery. While it's a better power option than some out there, it has some inconveniences too. The biggest is that lead-acid batteries need a lot of attention and maintenance, plus they don't hold their charge for very long. It just drains out whether you use it or not. And you can't even use the full power capacity of the battery.
That's why more and more people are switching to lithium-ion batteries. These portable power sources are much simpler to take care of than lead-acid batteries because they don't need maintenance. You don't need to make sure that they're maintaining a certain charge level, or that they're stored just right. Lithium-ion batteries can be stored pretty much anywhere, can be completely depleted and recharged over and over, and hold their charge for a long time. 
Long-lasting
Not only can lithium-ion batteries hold a single charge for a long time (up to a year), but they are also made to last for years while being charged and depleted over and over. In fact, you can drain and recharge a lithium-ion battery more than 1000 times before it wears out. And since these batteries are strong enough to power even TVs and mini-fridges for several hours at a time, you can use them for a long time in between charges for your day-to-day power needs. The long lifespan of these batteries means that you'll rarely have to replace the battery which means less waste for the landfill as well. Some of these lithium-ion batteries are part of portable power units or solar generators. Lion Energy has several different ones to choose from.
Simple Ways to Use Portable Power Sources in Your Life
If you aren't sure where to start using lithium-ion portable power sources, don't worry. There are a lot of simple ways to start using them to make them worth your money. For example, you can keep a small generator in your car or bags all the time so you can charge your phone or laptop anywhere you go. These power units are great for travel, especially camping or road trips. From devices to lamps to cooking appliances, you'll have all the power you need to make your trip safe and enjoyable. 
One of the best ways to use portable power sources is as backup or emergency power. Because these batteries and power units are not reliant on the grid for energy, they make the perfect source for emergency power. 
The Lion Energy Impact
At Lion Energy, we're passionate about clean and sustainable energy at your fingertips. And we've done everything we can to develop the best solar panels, lithium-ion batteries, portable power units and home energy storage systems to make sustainable energy widely available to everyone. From our creators to our ambassadors, we're dedicated to protecting our world's resources. Check out our products to find exactly what you need to make a difference in your life with clean energy and feel free to contact us with any questions. We're excited for you to join in our efforts for a better future in energy.