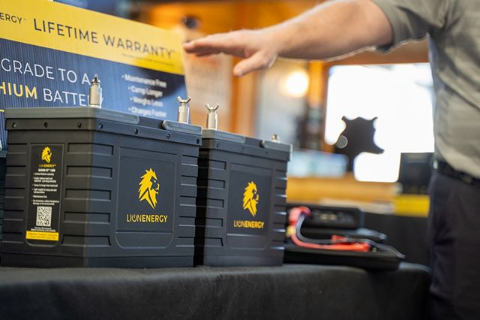 Lead-acid vs. Lithium-ion Batteries - Part One
When you're looking for a powerful battery (not just the AA type of battery), you want to invest in a battery that will earn its keep. You want a battery that will last a long time, that's efficient, and is easy to care for. As you look for a battery, you may see some debate over which types of batteries are best for your needs. The debate usually is over lead acid and lithium.
So to help you in your search, we've put together this two-part guide comparing lead-acid and lithium-ion batteries. Part one covers the overall advantages to lithium-ion batteries and a chart - Lead-acid vs. Lithium-ion Batteries At a Glance.
Head to part two where we cover all the essentials of each like lifespan and maintenance!
Overall Advantages to Lithium-ion Batteries
Overall, lithium-ion batteries tend to be a better option than lead-acid batteries in the long-run. While they may cost more upfront, you'll save money and stress by choosing a lithium-ion battery that's going to last much longer, be more efficient, and be easier to maintain. But there's more to lithium-ion batteries than those three things.
Lithium-ion batteries also are lighter weight than lead-acid batteries. For example, the biggest lithium-ion battery from Lion Energy weighs only 23 pounds, but most lead-acid car batteries weigh about 40 pounds. 
Another benefit of lithium-ion batteries is that they work well with solar panels while storing more usable energy than lead-acid batteries. When you combine lithium-ion batteries and solar panels, you'll find that you have plenty of renewable energy for your home, RV, business, etc. Some lead-acid batteries can work with solar power as well, but it's widely agreed that lithium-ion batteries are the best fit for solar power.
Lithium-ion batteries have many advantages. Despite being more investment up front than lead-acid batteries, a lithium-ion battery will give you plenty of energy to make it worth the cost. 
Lead-acid vs. Lithium-ion Batteries At a Glance
| | | |
| --- | --- | --- |
| | Lead-acid Batteries | Lithium-ion Batteries |
| Holds Charge Long-term | 2-4 months | 12-24 months |
| Lightweight | 40 lbs | 23-30 lbs |
| Efficient | 50% useable energy | 100% useable energy |
| Long Lifespan | 250-300 cycles | 3500-5000 cycles |
| Low Maintenance | Acid, trickle charge, etc | None |
| Affordable | ✓ | ✓ |
| Works with Solar | ✓ | ✓ |
Contact Lion Energy for More Information 
For additional information about our lithium-ion batteries, contact us today at 801-727-9270 or info@lionenergy.com. We look forward to helping you choose the best portable power solution for your unique situation.