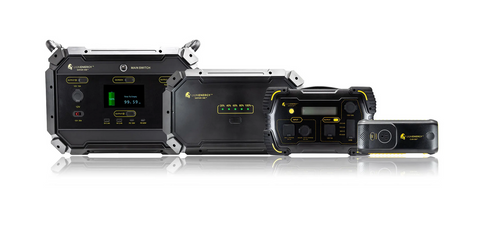 Lion Energy's Portable Power Units - Which One is Right For You?
Portable Power Options for All Your Devices
As electronic devices continue to saturate our daily lives, finding ways to keep them charged and working wherever we go has become more important than ever.
There's no doubt that portable power makes our lives more enjoyable, safe, and convenient. Not to mention it offers you more freedom. Freedom to power your devices without being tethered to wall outlets. After all, who wants to drag a long and unsightly extension cord around to provide power to your devices where you want to use them?
Portable power units come in all shapes and sizes. They allow you to keep your phone, tablets, and other devices charged and can be used to power tools outside or the grill for you BBQ. Depending on your unique needs, you may want to get a small one that fits into the palm of your hand or a more heavy-duty unit that acts as a "workhorse" around the house and yard.

If you're in search of a solid portable power unit, you've likely been sorting through the variety of products to figure out which one best meets your needs. We understand how confusing and time-consuming this can be. To help you make your decision, we've narrowed down the best portable power units worth owning.

So if you value freedom and energy independence, take a look at the difference between the Lion Cub GO, Lion Safari LT, and Lion Safari ME.
The Best Small Portable Power Unit – Lion Cub GO™
As one of the smallest portable power units on the market, the Lion Cub GO weighs only 3 pounds but packs massive power. This lithium power unit has solid capacity, offering 150W output and 120Wh stored energy, multiple outputs (AC, USB, 12V), and a built-in 3-stage flashlight. Plus, an optional solar panel can be used to recharge it.

The Lion Cub GO is an excellent option if you need to power your USB devices, including cell phones, TVs, cameras, drones, and laptops. On top of that, it's also TSA-approved, which means it's easy to pack in your carry-on to use while you're on the plane and wherever your adventure takes you. So if you're a frequent traveler looking for a solidly built portable power unit that combines great battery life, numerous ports, and an affordable price, Lion Energy has you covered with the Lion Cub GO. In addition, its size and capacity make it the perfect all-around choice for most people who don't need professional-grade portable power to run power tools at a job site.
Customer Review
"This power unit is really quite ingenious. It gets its power from the sun via a solar panel. The GO Generator attaches and gives off 20 watts to 2 USB ports. You can take it camping, to the beach, or use it when there is a power outage. It is very lightweight and easy to store. You can take it almost anywhere. You can plug in laptops, cameras, iPhones, tv's, drone, etc. It works well and is quite compact."
The Best Mid-Sized Portable Power Unit – Safari LT™
When you need a bit more power and still need the convenience of portability, the Safari LT is the one you want. With 500W of output, 450Wh of stored energy, and multiple connections (AC, USB, USB-C, 12V), the Safari LT is the most versatile power generator ever. From cooking and communication to entertainment and emergency needs, it'll keep your electronics going for days on end.
Whether you need to power medical devices like CPAP machines through the night or charge your mini-fridges, electric smokers/grills, or drones, the Safari LT is capable of charging multiple devices at once. It can be recharged using wall outlets, solar panels, 12V vehicle outlets, and has 1,000 lifecycles. The Safari LT also has an easy to read display that shows you how much energy it has, how much is being used, and how long it will last at that usage rate. To top it off, it weighs just over 10 lbs. so you can take it almost anywhere. This portable power unit is a fan favorite.
Customer Review
"This is an amazing product that I love. I have plenty of uses for it. With the solar panels it is basically a plug and play type. I highly recommend this product as the possibilities are endless."
The Best Professional-Grade Portable Power Unit – Safari ME™
With its large lithium iron phosphate battery, numerous ports, and professional-grade quality, the Safari ME is in a class of its own.
This workhorse packs a punch, combining rigorous power output (2,000W continuous, 4,000 surge), energy storage (922Wh), and portability (45.5 lbs). Use it to power your tools around your home, yard, or worksite. You can even take it with you on your road trip or to power kitchen appliances, lights, and communication devices in your RV. The Safari ME can power any devices that require less than 2000 watts of continuous output. In addition, it will maintain its charge for up to a year without having to charge it. But you'll find uses for it almost daily.
In addition to work and play, the Safari ME is also a great source of backup power during emergencies, so you never have to worry about your family during unexpected events like power outages.
Say you need a more robust portable power unit with even more stored energy. Fortunately for you, Lion Energy built an expansion battery pack called the ME-XP. The Safari XP is a powerful lithium iron phosphate expansion battery that adds 2048Wh to the base storage capacity of the Lion Safari ME power unit. As a result, you have 3x the stored energy than the ME alone so you can power things longer. So get your power tools, refrigerators, freezers, air compressors, TVs, communication devices, and blenders charged up!
To charge the ME and XP, you can plug them into a standard wall outlet or harness the sun's power using up to 600W of solar panels. It can power just about anything you can plug into a standard wall outlet (15A).
Customer Review
"It was shipped super quick and it performs amazingly well. I got the expansion pack and 6 solar panels, and it all works very well. We have an off grid cabin and love the quiet power. We take it in our travel trailer as well. Just love it."
The Takeaway
As you can see, Lion Energy offers several portable power options. Most people want the best value for the right place, and we believe the three listed above are the best options on the market. See why others think the same thing by checking out our product reviews.
Pick Your Portable Power Unit From Lion Energy
If you're looking for reliable portable power units to keep your devices charged through work, play, and emergencies, Lion Energy has the solutions you need. Check out all our best solutions today so you're ready for whatever tomorrow brings.