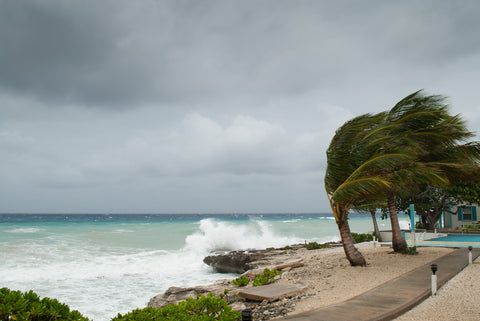 Preparing for Hurricane Season During COVID-19
The sunny days of summer are in full swing, and that means hurricane season is upon us. Hurricane season can be stressful every year, but with 2020 being the year of COVID-19 and civil unrest, there's an added layer of stress. Not only do you have to worry about protecting your home and family from hurricanes, but now you also have to figure out how to keep your family safe from the virus and chaos as well.
In other words, it's no surprise you may feel extra fear or anxiety moving into 2020's hurricane season. If a high-category hurricane comes, what will you do if your family has to evacuate? Will you have all the supplies you need? What will you do if the power goes out? And how will you avoid getting sick in the process?
From food to portable power solutions, preparation will be your best friend for hurricane season this year. Let's take a closer look at how to prepare so you're ready, come what may. 
Buy Food and Necessities in Advance
With COVID-19 still a significant concern this summer, the last thing you want is to get stuck in massive, panicked crowds at the store. Even with a mask on, the risk of the virus being passed around is a lot higher when you're in overcrowded spaces. 
Of course, COVID-19 isn't the only concern you'll have if you wait too long to buy food and necessities. When hurricanes come close to where you live, you know that supplies at the stores will run low. And when the fear of a storm is coupled with COVID-19 fear, you may find yourself facing part 2 of the great toilet paper hunt or worse.
So rather than waiting for a storm to form before stocking up on food and supplies, start shopping now. Buy non-perishable food, gather hygiene products, and make sure you have all the masks, hand sanitizer, and house cleaners you need to get through a hurricane or two. And be reasonable about it. There may be a few things you still need to buy right before a storm does come, but if you have most of what you need in advance, you won't have to worry about racing everyone else for major necessities.
Buying these items in advance should help you avoid the last-minute panic shopping that wipes out stores and that can spread viruses. So go over your home's inventory today. Figure out what's lacking and buy ahead, so you can keep your family safe and prepared when the hurricanes do come (or tornado or flooding or any other natural or even man-made disaster hits).
Keep Up on News Alerts
When a storm could form any day, it's important to pay attention to the news reports. You can, of course, simply watch the news to get these updates. But a good way to stay up to date on the progress of hurricanes is to download a hurricane tracking app that will send you notifications of hurricanes heading your way. 
There are several hurricane tracking apps on the App Store and most of them are free to download, so it's worth taking a minute to look them over. For example, a highly rated app is the National Hurricane Center Data app. It gives you detailed tracking, push notifications, and more to help you stay up to date with nearby storms. 
Find Alternative Portable Power Solutions
For many, one of the greatest concerns during hurricane season is the loss of power. Losing power during a storm can be scary because temperatures may drop, it may be hard to cook meals, power communication devices including phones, computers, TVs, and you'll have little to no light. Not to mention that without light and devices, it may be hard to be at peace from the storm outside. 
A good way to prepare for a loss of power is to have an Emergency Preparedness Kit of portable power solutions. While there are various options on the market, it's clear that some of these power solutions are better than others. So we recommend the Emergency Preparedness Kit from Lion Energy.
It includes the following:
Lion Safari LT Power Unit
The Lion Safari LT is an 11-pound chargeable power unit that can be powered by solar energy. When connected to a solar panel, it can easily replace traditional, noisy, gas-based generators. The Safari LT has AC, USB, and 12V outputs for maximum versatility. It can also be charged from wall or car outlets or hand cranks. The light weight makes it easy to transport and its versatility makes it simple to use on the go. It outputs up to 500W of power at a time. That's enough power for CPAP machines, TVs, computers, efficient refrigerators, lights and more.
Lion 100 Solar Panel
This 100W solar panel is small but powerful. It's made to charge power units like the Safari LT so you can have clean power whenever you need it. This solar panel can fold and has a handle so you can easily take it in the car, but you can also mount it on your roof if you'd prefer. A solar panel can be helpful in your preparations for a hurricane by making sure that your power units are all charged before the storm hits, during the storm and those critical days just after the storm.
Anderson ™ Extension Cable
The 25' Anderson™ Extension Solar Cable is made to connect solar panels to power units. It may be just a simple cord, but for alternative solar power solutions, it's a necessity. It allows you to keep the solar panel in the sun and the power unit close to you.
LED Light Bulb String
If you do experience a loss of power, you'll want to have access to light. And even if you have flashlights handy, you may want more light that's bright and long-lasting. This string of LED lights has three bulbs that give off a lot of bright light so you can easily see around you. Plus, they can connect to power units like the Safari LT. And each light bulb has it's own on/off switch.
Hand Crank
Sometimes power outages last for a few days. If this happens, and there's not enough sunlight to fully charge your power units, it's important to have a hand crank handy, like the one from Lion Energy. It connects to the Safari LT and allows you to recharge the unit whether or not the sun is out. 
Lion Cub GO Power Unit
The Safari LT is a useful power unit, but it might be more than you need. So it's always good to have something smaller handy. That's why the Lion Cub GO unit is part of this Emergency Preparedness Kit. It weighs only 3 pounds and fits easily in glove compartments, purses, backpacks, and more. It also features a built-in flashlight. The Cub GO would be especially useful if you needed to evacuate and have a small backup power unit. It has up to 150W of output through the AC, USB or 12V sockets.
Cub GO 20 Solar Panel
This extra small 20W solar panel is handy for traveling. It's made to charge the Cub GO power unit but can help directly charge other USB devices as well. So if you need clean energy to keep your phones and laptops running in a crisis, this solar panel will be a useful tool.
Be Ready for Car Trouble
There's one more feature of the Lion Energy Emergency Preparedness Kit, but it isn't for backup power in case of a power outage. However, the final piece of the emergency kit is a great portable power solution if you need to evacuate. 
One of the most frustrating things that can happen when you need to evacuate is car trouble. Your battery dies, or you get a flat, and because everyone is evacuating, it's hard to get the help you need. Besides, with COVID-19 a concern, you might not want to reach out for car help anyway. 
That's why the final piece of the Emergency Preparedness Kit is the Lion Cub JC. It weighs about 4 pounds, and•••••••••• because of its small size, it's easy to store in the car. It's first and foremost a jump starter for your vehicles: cars, light trucks, UTV, RVs, boats. But it has other handy features as well, like a built-in flashlight, USB power outputs, and an air compressor to inflate low tires.
With all these features combined in such a small package, you'll feel secure knowing that you can evacuate quickly, even if you have car trouble along the way. It has 480A and 14,000mAh of power and can be recharged from your vehicles or the wall.
You can check out all of these great products and more at www.lionenergy.com
Have an Evacuation Location in Mind
No matter what year it is, it's always important to have an evacuation location in mind. After all, if you have to evacuate, you still need to find somewhere safe to stay until you can return home. But this year, with COVID-19 to consider, you need to be extra careful when you decide where to go. 
Some places offer shelter for people evacuating, but the problem with such shelters this year is that it brings a lot of people together without the ability to social distance. Or, if social distancing is enforced, it will limit how many people the shelters can accept at a time. Either way, the risk of the virus spreading definitely increases in these settings.
So to avoid the spread of the virus, consider finding a different location to evacuate to if needed. A family member who lives outside of the hurricane zone might be able to provide a safer shelter for you and your family. Or maybe it would be better to relocate to a hotel room so you can stay inside the room as much as possible and be distant from others in the hotel (we do suggest sanitizing the hotel room when you get there though). 
Wherever you decide to go, make sure you have a plan set of where to go, how to get there, and how to evacuate as quickly as possible. And let your loved ones know where you are and how you are doing.
Prepare an Evacuation Kit
If you do need to evacuate, it's always a good idea to have 72-hour emergency kits of food, clothes, water, etc. for each person in the family to take along with you. However, to prep for COVID-19 as well, you may want an extra evacuation kit filled with masks, hand sanitizer, cleaning supplies, and any medications your family needs. 
If you have this and other emergency kits prepared and ready to go, then when you do need to evacuate, you can simply grab your 72-hour kits, your COVID-19 evacuation kit, and your Emergency Preparedness Kit of portable power solutions and drive away. It will make evacuating much easier and help you feel ready and safe if the need to evacuate does come. 
Make sure you're prepared for hurricane season this year by planning ahead. To give yourself the best security and preparation, start with Lion Energy's Emergency Preparedness Kit and see how much of a difference it can make in a crisis. Buy our Emergency Preparedness Kit today, or visit lionenergy.com to see our other products.