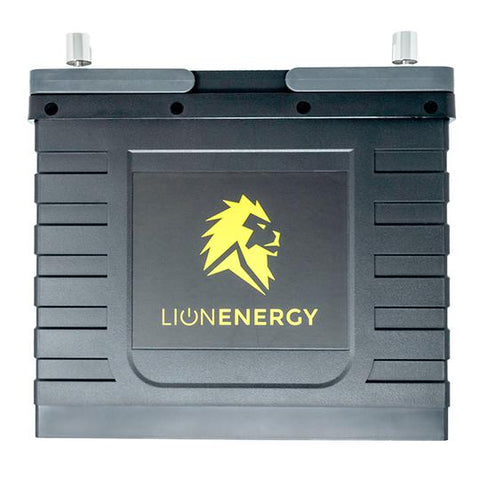 Safari UT 1300 vs Safari UT 1200
The Lion Safari UT 1300 represents a major leap forward in battery technology. As you're researching our new lithium ion battery, you may wonder how it differs from its predecessor, the Safari UT 1200. Although they may look similar, they have different specs. Here's a quick look at the differences.
Safari UT 1300

Safari UT 1200

Battery Class

The Safari UT 1300 is the latest in Lithium battery technology. It replaces traditional deep cycle lead acid batteries with the safest Lithium – Iron Phosphate. It is a "plug and play"– simply remove the deep cycle lead acid battery from your RV or boat and replace it with this superior performing battery. It also has a built-in smart battery management system (BMS) that protects and extends the life of the battery, giving you years of performance.

The Safari UT 1200 offers the same Lithium battery technology. Also a "plug and play,"it replaces lead acid batteries with newer and more advanced technology.

Rated Capacity 

The rated capacity is often stated in Volts (V), Amp hours (Ah) and Amps (A). The Safari UT 1300 is a 12.8V, 105Ah, 150A continuous output lithium iron phosphate battery. It works in a 12V system and can be connected in series (to increase the volts) or in parallel (to increase the Amp hours).

The Safari UT 1200 rated capacity 12.8V, 90Ah, 1152Wh (12V x 90Ah). Technically, it is called Nominal Voltage at 12.8V and 90Ah. It can do 900A for a millisecond (a spike) then approximately 250A for one minute and 150A continuous (how much power it puts out) capacity.

Size

The Safari UT 1300 weighs 23 pounds and is the same standard 24 Group Size as other batteries. The dimensions are 10.2" L x 6.6" W x 8.8"

The Safari UT 1300 weighs 23 pounds and is the same standard 24 Group Size as other batteries. The dimensions are 10.2" L x 6.6" W x 8.8"

Warranty

We're so confident in the Safari UT 130 that we stand behind it with a limited lifetime guarantee – the battery cells, even under extreme use of maximum charge and discharge rates, will last at least 3,500 cycles (charging and discharging and charging again). That means it will have at least 80% of its cell capacity after all that heavy use and still have the capacity to continue on. And most people won't work it that hard. If you used it as most do, we would expect to have it last at least 5,000 cycles. We're not limiting the warranty to "time" but rather the use and capacity of the cells in the battery.

If you ever have a question or a problem with the Safari UT because it's not performing as above, let us know and we'll take care of it.
See Why There's no Better Place to Buy Portable Power Solutions
If you own a fifth wheel, camp trailer, dump trailer, house boat or if you want power to your shed, cabin, gazebo or remote locations, the Safari UT 1300 is a game changer. It is lightweight, retains a charge for up to two years, and has no carbon footprint during use. And given its several benefits, it's a great investment in you and your family. 
Have questions about our batteries, power units, solar panels, or other products? Just say the word. Contact our team today at (385) 375-8191 or visit our store in American Fork, Utah!