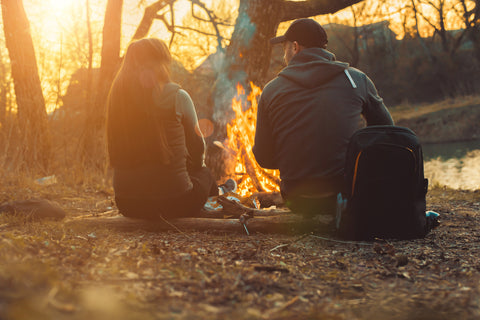 The Best Portable Power Solutions for Your Next Camping Trip
With summer settling in, you're ready to head out into nature. But this year, before you start packing up, take a good look at the power units you're taking along and ask yourself: 
Are they easily portable? Are they quiet? Do they run on clean energy? Can they power all of the devices and appliances you need for your trip?
If you answered no to any of these questions, then guess what - it's time to upgrade. There are better power units out there now, and they're far more convenient and powerful for camping than any old gas generators. We're talking lithium-based power units that can harness the power of the sun for recharging. What's more, these portable power solutions will last much longer than any power unit you've had in the past. So here are our top camping solutions to help you find the power upgrades you need:
Portable Power Solutions for Camping
Lion Cub JC
(Jump Starter and Air Compressor)
One of the most frustrating things to happen when you're camping is for your car battery to die on you. When you're out camping, you may not have cell service to call for help, and even if you do, you might be stranded for a long time before someone can come to help you. 
So instead of worrying about whether you'll have access to car help when you need it, just carry the Lion Cub JC along with you. It's a small jump starter, weighing in at only 4.6 pounds, and can jump a car, a truck, RV or even a boat. But its versatility doesn't end there. 
The Lion Cub JC can do a lot more than jump start a vehicle. For example, it can also be an air compressor, so not only can it save you from a dead car battery, but it can also save you from a low tire. And, if you're having car trouble at night, the JC has a built-in flashlight so you can see everything you're doing. 
If all that isn't enough, the Lion Cub JC can also charge devices from its USB output. This is one of our favorite portable power solutions because it can do so much despite its small size. You'll feel completely secure knowing that, with the Lion Cub JC, you'll never have to worry about a dead battery on your vehicle again, no matter how far you go in the wilderness. Specs: 480A, 14,000mAh.
Lion Cub GO
(Small Portable Solar Generator)
Sometimes when you're camping, you need a more versatile power unit to charge your camera, drone, phone, and lamp. But it's frustrating to have to carry a huge power unit along so you can charge those devices over and over again.
That's when you need the Lion Cub GO. It's even lighter than the JC, weighing in at 3 pounds, and is only about a foot long. This is one of the most portable lithium power units out there - you could easily fit three or four in a backpack with room to spare. You could even keep one handy in your car's glove compartment. 
The Lion Cub GO is a silent power unit that can be charged more than 1000 times in its lifecycle. Its versatility goes past its size - it has an AC output, USB outputs, and a 12 Volt output, so you can charge almost any device you have with you. 
Between the light weight and the versatile charging options, the Lion Cub GO is a favorite for anyone looking to camp light. It's an especially useful option for backpacking, partly because of its size, but also because it's safe and durable in any weather condition. Add an optional 20W solar panel and have virtually an unlimited supply of power wherever you go. Specs: 150W output, 120Wh.
Lion Safari LT
(Compact Portable Solar Generator)
When you're camping, working around the house and yard, or on the go, it's handy to have something that can power your small devices. But sometimes, you need something just as versatile as the Lion Cub GO, but with a little more size (it weighs about 10 pounds) and power behind it. And that's why the Lion Safari LT is a top pick for portable lithium power solutions.
With two 12 Volt outputs, two AC outputs, and four USB outputs, you can connect more devices to the Safari LT while still having it last for hours. Even better, it's made to power bigger devices and appliances like TVs, hot plates, laptops, fans, and CPAP machines. 
Whatever device you need while you're camping, the Lion Safari LT has you covered. And you don't have to worry about running it down and recharging it. It also has a lifetime of 1000+ charges, but it can also connect to solar panels so it charges while you use it. Specs: 500W output, 450Wh.
This battery is a beast - but a lightweight one (only 23 lbs and a smaller Group 24 Size). The Lion Safari UT 1300 is a lithium-ion battery made to power the really big things. It has the capacity to handle auxiliary power needs in a camping trailer, motorhome, or boat. In other words, it can completely replace the gas generator you've been using for your trailer (unless you need to run your AC unit for longer periods of time). 
The Safari UT 1300 requires no maintenance. You can let it sit for up to 2 years without being used, and it will still hold its charge. Even better, you can connect it to solar power and keep the charge up as long as you need it. It comes with a limited lifetime warranty because it's that good. You can use all the energy out of it every single day and recharge it at least 3500 times and still have 80% of the battery capacity left. That's about 10 years of everyday use and it's still going strong. And because you can use all the stored energy in the Safari UT 1300, it allows you to camp or boat 2x as long on a single charge as you would with a traditional lead acid battery. Specs: 105Ah, 12.8V, 1344Wh lithium iron phosphate with built in BMS.
When you have multiple power units that can charge from the power of the sun, it's handy to have a solar panel or two on hand. And guess what? Not all solar panels are made for rooftops.
The Lion 100 Solar Panel is a foldable solar panel that makes portable clean power a reality. It weighs about 20 pounds and is about 40 inches wide when unfolded (20 inches folded). This makes it easy to pack in the car and even easier to use in a campground. Just find a sunny spot, set it up, and connect it to your power units. And when the sun moves, you can move the panel along with it. 
Solar energy combined with lithium-ion power units is the best portable power solution available. It's really never been this easy to have clean, quiet power sources on the road and in nature with you. Specs: 100W, 12V, 6A average output current.
Package Power Solution Kits
When you're upgrading your camping power units, sometimes it's easier to opt for power kits. These packages combine some of our favorite individual power solutions into one easy-to-use kit. At Lion Energy, we have several of these portable power packages available, but these two are our picks for camping.
All this talk about portable solar-powered power units might be intimidating if you're new to using solar power. If that sounds like you, then the Beginner DIY Solar Power Kit is a great option for you. It includes everything you need to get started: A Safari UT 250 lithium-ion battery, a Savanna CC (charge controller), a Savanna IV (400W power inverter), an Anderson ™ Solar Extension Cable, and, of course, a Lion 100 Solar Panel.
Everything in this kit is portable and perfect for camping or remote locations (think sheds, gazebos, cabins) and it's so simple to set up. The solar panel starts generating energy once it's in the sun and connected to the battery to charge it. If you want more stored energy, upgrade your UT250 to the UT70 or the UT1300. For more details on setting up the solar panel, check out our instructional video here.
The Off-Grid Camping Package is, as the name suggests, made with camping in mind. It includes some handy basics for solar power and portable power solutions: the Lion 100 Solar Panel, the Lion Safari LT, an Anderson™ cable, and a 3 bulb LED light string.
With the versatility of the Safari LT combined with the Lion 100, you'll have the power you need to run everything you've brought along for the trip, not to mention the LED lights will help you see everything you need to see whenever you need to see it. That's added security and power for your trip. 
When power units are this strong, light, clean, and quiet are available, it's time to upgrade for old gas-based units to better lithium-battery based solutions. Enjoy your camping trips more this year with Lion Energy's portable power solutions so you never have to worry about your car, security, and communication needs again. Power where you need it, when you need it. For more information, go to www.LionEnergy.com