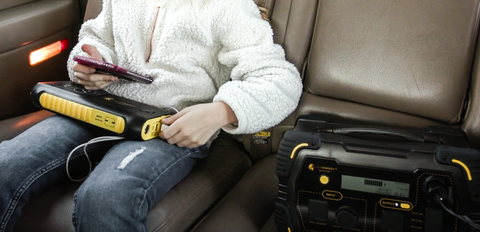 The Best Portable Power Supply Kit for Parents On-The-Go
As a parent, you do a lot for your kids. And a lot of the time, that includes being a chauffeur. After all, kids have school, dance classes, soccer practice, piano lessons, tutoring, playdates, and a dozen other things going on in their lives.
Well, you know perfectly what we mean. You are the all-knowing parent, after all.
But sometimes when you're on-the-go all the time, you hit snags along the way. It's frustrating, but it's inevitable, so you need to make sure you're prepared with a portable power supply when you hit those bumps in the road.

Luckily, you don't need to look too hard. Since you parents have a lot going on, we at Lion Energy have made it easy for you with the Taxi Parent portable power supply kit. It has the three most common portable power units you'll need on-the-go so you don't need to worry about the inevitable power snags along your way.

So let's take a look at what the Taxi Parent portable power supply kit has to help you on your way:
Lion Safari LT
The Lion Safari LT is a lithium power unit to give you continual power throughout the day, no matter where you are. It weighs only 11 pounds and its longest side is only 12", making it the perfect size to store in your car.
Though you do have to charge it if used daily, the Lion Safari LT can hold its charge for about 6 months if it isn't being used on the daily. That's months of reassurance riding around in your car, knowing that you have the power to keep going if something does go wrong. You can also recharge it using the 12V cigarette socket in your vehicle.
The Lion Safari LT also offers versatile power output options (a 12V output, four USB outputs, and two AC outputs). That means you can power for whatever you need.

If you're on a road trip with the kids, you can power their iPads or other game devices to keep them entertained.

If you forgot to charge your phone last night and need to be in the car all day, driving your kids to their various activities, you can charge it too.

If you take the kids camping, you can power your hot plate to cook dinner or a lamp so you can see when the sun's gone down.
Honestly, if you really wanted to, you could power a mini-fridge in your trunk so your kids can have a good snack between school and their other activities. 
And when you take the kids to the tailgate party before the big game, you can keep the pre-game programming running on a full-size TV and still keep all your devices charged at the same time.
Whatever it is you need charged while you're on-the-go, the
Lion Safari LT
is the perfect start to portable power for parents like you.
Lion Cub GO
Now, the Lion Safari LT is great for when you're on-the-go in the car, van or truck, but what about when you have to be running 10 different errands, your phone battery is low, and you can't leave your phone in the car in case one of the kids calls you?
That's when you need a smaller portable power unit to carry with you.
Which is why our portable power kit for parents includes a smaller lithium battery unit for you to carry whether you're in the vehicle or not - the
Lion Cub GO
. Its dimensions are the perfect size (12.6" x 6.3" x 3.5") and weight (3 pounds) to let you carry it in a purse, computer bag, large pocket, or glove compartment.
The Lion Cub GO is just as versatile as the Lion Safari LT (one AC output, three USB outputs, and one 12V output), making it easy to charge your phone in your bag while you buy groceries for the week. Or you can charge your laptop while you work and wait for the kids in your carpool.
Another useful feature on the Lion Cub GO is the built-in flashlight. So if you lose your keys or need to change a flat tire in the dark, you'll have a powerful flashlight handy and you won't have to run your phone battery down with the flashlight. The Lion Cub GO and the Lion Safari LT make great back-ups for each other. If the charge runs low on one, you'll always have the other nearby. Combined, they make up an essential part of our portable power kit for parents. 
Mini-Spark Jump Starter
Two versatile power units are really useful for parents to have on hand, but sometimes you need something more specialized. Especially when your car's battery dies or you need an extra hazard light.
The Lion Cub JC  is a tiny power unit (4.6 pounds and 7.6" x 4" x 2.2") with specialized outputs just for jumping car batteries. It also comes with jumping cables and a charging cord. With the Cub MS, you don't need another car nearby to jump yours. This unit packs enough power to jump your car by itself. It also has a USB port to charge your phone.
For additional safety, the Cub MS includes a built-in 110-lumen flashlight. With these capabilities, the Lion Cub JC belongs in every car. Make sure it's in yours and, if you have teenagers, make sure they have access to one too. It's an essential part of our portable power kit for parents but will keep your whole family safe and on-the-go. 
Buy Your Taxi Parent Portable Power Kit Today
Each one of these power units is intended to make your life easier as a parent. It gives you the added security and reassurance you need to know that you are prepared for any bump that comes your way.
And the easiest (not to mention cheapest) way to buy all three of these devices is in the Taxi Parent portable power kit. You'll have our two best power units and specialized mini-spark jump starter all while saving more than $70 that you'd spend buying them all separately.
Prepare yourself and your family for every day that you're on-the-go and buy the Taxi Parent portable power kit today.