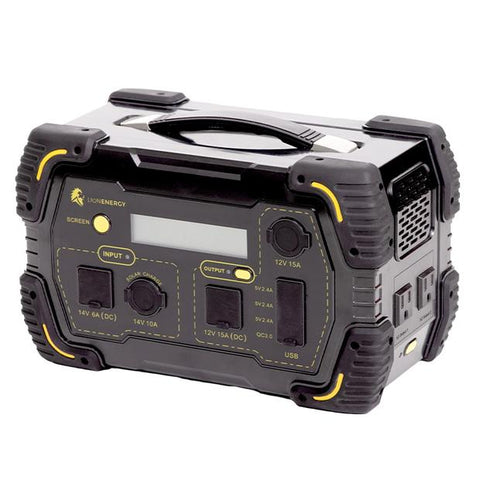 The Safe, Silent, and Renewable Lion Safari LT Power Generator
During natural disasters, it's essential to be self-reliant. Your basic needs come down to food, water, and power. If you have power, you can clean your water and cook your food. So the basic building block that you MUST HAVE to work off is POWER. You need a power supply, a generator.
But not all generators are created equal. 
When an emergency does happen, did you know that a gas power generator can cost over $30 a day to run? That's over $200 per week just to power a few lights. And that's if gas is only at $2.50 per gallon. When disasters hit the gas stations, supply and demand will change, and they will be charging more like $5, $10, $20 per gallon. Gas stations need power to pump gas so in an emergency, you might not even be able to get gas. 
Not to mention all of the deadly fumes gas generators can release. Did you know that people have died from the fumes of gas-based generators inside their homes, thinking they were safe?
Also, think of looters. With a loud generator running, you're basically advertising to everyone in a 1 mile radius that you have energy, which puts a target on your back. 
When creating our products, we had higher standards and had to check all of the boxes below.
Power: It had to be powerful enough to let you continue to use your vital devices for hours on end like a mini fridge, lights, medical devices, radio, phones, computers, tv's, hot plates, electric blankets, etc.

Renewable: It needs to be charged through a solar panel (so you can take advantage of the best renewable energy possible, sunlight), and of course, while you have power at home, you need to be able to plug it into the wall.

Lithium-Ion Technology: It needs to have the newest in lithium-ion battery technology, not the old, dangerous, heavy, lead-acid based technology. This way, you can safely use it over and over again. 

Maintenance-Free: It had to be something that is maintenance-free, no assembly required, and ready to go. The out-of-date lead-acid batteries lose their charge over time, can leak chemicals, can cause a hazard to your family's health, and only have a few cycles of use. We wanted something ready to go at anytime.

Lightweight and Portable: Some batteries that were on the market were over 100 pounds and were a big production just to move around. We needed a battery that was lightweight and portable. 

Lots of Electrical Outputs: It needed to include 120 volt AC outlets where you can plug in your standard issue 2- or 3-prong plug, as well as USB outlets for charging cell phones, tablets, and other personal electronic devices. Plus, it needed a 12 volt DC outlet that you can use with a cigarette lighter adapter.

Tough and Rugged: It had to work no matter what mother nature throws at you. And it had to be as tough as the elements you're in with a warranty to match.

Connectivity: It needed to be able to daisy chain or connect additional panel so you can cut down the regeneration time and use it while charging it. 

Affordable: We wanted every family in America to own one...not just the rich and privileged. Everyone needs power to be prepared for what could happen.

 Easy to Use: It needed to be so easy a child under 8 could use it. You never know who will need to operate it in an emergency.
It took years of research and huge development efforts, and finally, we created the perfect solution. 
Introducing the SAFE, SILENT, AND RENEWABLE Lion Safari LT
TM
Power Generator
What first started out as an emergency preparedness tool soon started to have an everyday application and impact on the daily lives of everyone who has one. It's so easy to use and provides power at your figure tips. 
It's a breakthrough device that has a battery Capacity of 450Wh with a battery Output of 500W. That's enough to power lights for safety and comfort, computers, TVs, and cell phones for communication, medical devices like CPAP machines, and even appliances like a small freezer or fridge that will sustain your family during a power outage. 
Plus, it weighs just over 10 pounds, so it is so easy to bring to:
A tailgate party

Camping

Any off grid needs like a shed, gazebo or cabin

Out with friends doing anything outside

Road trips

Working in the yard or on the job site
Basically, anything away from your house, you're going to be set. When an emergency happens, you'll be ready. 
Here are all the specs for our "techie" friends out there:
Safari LT Tech Specs
‣ Extended life or "Life Cycles" - 1000+
‣ Charge Retention - 1+ Year
‣ Weight - 10.9 Pounds
‣ Dimensions - 11.8 x 6.5 X 7.3 Inches
‣ Warranty - 1 Year
‣ Battery Capacity or Stored Energy - 450Wh
‣ Battery Output - 500W
‣ Battery Type - Lithium ion NMC

Ports
‣ AC Output - 2X
‣ USB/PD Output - 4X
‣ 12 Volt 10 Amp - 1X
‣ 12 Volt 5 Amp - 4X

Charge Times
‣ Lion 100 Solar Panel - 5 to 7 Hours
‣ Wall Outlet - 9 Hours
‣ Fast Charger - 3 Hours
Find Peace of Mind With Lion Energy
Imagine the peace of mind you'll have right away when you get your own Safari LT portable power unit. Because if a crisis hits, you'll calmly reassure your family that they're safe with plenty of electricity to power the critical items. You'll be able to power lights, preserve food, recharge cell phones, and computers, or keep critical medical devices going. Plus, it does not have to sit in a closet and wait for "Doomsday." You can start to use it now for everyday use, at work or play, and have it always ready for an emergency.  
Your home will be a little island of light and warmth in a storm – be it natural or man-made.
You can't put a price tag on peace of mind, memories with your friends and family, and the safety of your loved ones.