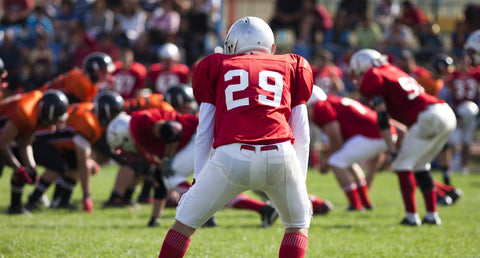 Top Portable Power Solutions for the Upcoming Sports Season
With live sports starting up, it's a good time to up your game-watching game. There are all sorts of ways to do this, but one of the most important is to make sure that you have all the portable power you need to keep up with your favorite sports. 
We've come up with a few of the top portable power solutions to make watching sports easier and more convenient this year than ever before. Whether you want to keep up with scores on the road or have a party to make the most of the sporting season, these power solutions can make all the difference.
Keep Up with Games on the Go
If you're heading out on a road trip during a fall break or flying out to visit family for the holidays, you can stay up on your team's games. But your phone can only keep updating you on scores, playing the live game, and giving you driving directions for so long before the battery runs out. However, there's no need to let your phone battery die when you have the Lion Cub GO with you.
The Lion Cub GO is one of the most convenient and powerful portable batteries on the market that includes a built-in inverter. Weighing less than three pounds, it easily fits in a pocket or a purse, and it can power a phone, a laptop, and even a TV. 
Portable power solutions are useless if they aren't versatile, which is why the Lion Cub GO has an AC outlet, a 12 Volt outlet, and two USB outlets, making it easy to charge anything. So now, when you're on the road, you don't need to worry about your phone battery giving out before you need it. 
The Lion Cub GO can even go on airplanes. It's the largest battery size allowed onto an airplane, and since it can power a phone for up to 18 hours, you'll easily have enough power to enjoy your games through your whole flight and then some. Wherever and whenever you need convenient power, the Lion Cub GO can help you out. You can even recharge it using an optional solar panel for a virtual unlimited supply of energy.
Travel to Kids' Sporting Events
The sports season is more than just college sports. You might have kids who play on school or community teams, and that usually means you have to travel a bit to take kids to games or to watch and support your kids' teams. So when your kid is counting on you to support their sports season, you want your car to be prepared.
The last thing you want is for your car to die on the way to your kid's football game. But if it happens, then the Lion Cub JC will suddenly be your best friend. 
The Lion Cub JC is a tiny but powerful jump starter for your car, so if your car battery dies, you can quickly and easily be on your way again. It's designed to be much more than just a simple jump starter though. It also functions as an air compressor if you find you have a low tire along the highway. 
And if you have to be traveling at night, no worries. The Lion Cub JC has a built in flashlight so you can see what you're doing if you need to change a tire or assess your engine. And if your trip is uneventful, you can always use it to charge your devices as well through the USB outputs. 
Host a Tailgate Party
What would the sports season be without at least one good tailgate? A tailgate is the place of all places that you want strong and long lasting power to keep the party going. But gas generators can be loud, you might have too many appliances to power, and the power might not last as long as you want it to. So check out some portable power options that can keep your tailgate going all night.
We take tailgating seriously, which is why we've put together this Tailgating Package that has all the power essentials for your party. It includes the Lion Cub JC to keep your truck running perfectly and two Lion Cub GO units to power your devices. But you already know about those portable power units, and there are a few more things in the package to help you do tailgating right.
The package also includes two strands of LED light strands that you can connect to a Lion Cub GO unit or any other USB outlet so the party can keep going no matter how late it gets. You'll also have the Lion Cub Safari LT to power larger devices and appliances - and it powers them silently. It can keep a TV running for nearly five hours and can also power appliances like mini fridges so the drinks stay cold and keep coming. 
Finally, the highlight of the package is a portable solar panel. The solar panel can pair with the Safari LT, so you can take advantage of the sunlight to charge the Safari LT all afternoon and evening while the sun is shining, even while you're using the power. 
Of course, at a tailgate, it's always best to have as much power as possible. That's why we also recommend using the Lion Safari ME for your tailgate as well. Even though it isn't part of the Tailgating Package, its professional grade power makes it ideal for just that kind of event. 
The Safari ME pairs with solar panels just like the Safari LT, but it charges faster and the charge can last you all day. And it's so versatile that it can power anything from a TV to a blender to a hot plate to anything you normally would plug into a standard wall outlet.
If you need an even longer amount of power, the Safari ME has an expansion pack that can give you 3x the battery storage capacity than you'd have otherwise. With this power solution, you won't have to worry about running out of power even after the game is over. 
Don't Miss a Minute of Your Favorite Sports
Our portable power solutions at Lion Energy are exactly what you need to keep up with your favorite sports this season, whether you're home or away. Check out our products today to see which products will help you keep the sports coming through this season and many more to come.