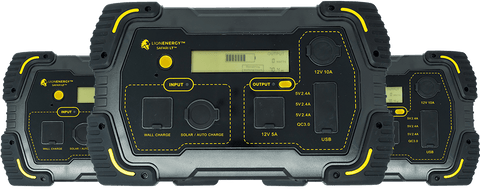 The Best Emergency Kit for 2020
Nearly 50% of adults in the United States don't have the plans in place in the event of an emergency. On top of that, 48% of Americans aren't equipped with emergency supplies and 60% of Americans have not practiced what to do in a disaster. Researching emergency prep and getting your supply kit started is half the battle.

Imagine the peace of mind you'll have right away when you get your own. You'll be able to power lights, preserve food, recharge cell phones and computers, and keep critical medical devices going - like a CPAP machine. Your home will be a little island of light and warmth in a storm – be it natural or man-made. You can't put a price tag on peace of mind, memories with your friends and family, and the safety of your loved ones.

Part of your preparedness is to have a source of power. And once you have "portal power," you will never go back. It's like cutting the cord on your hardwired phone and running free! Plus, you'll be doing your part to help the environment.

Here are the basics you'll need in your portable power emergency kit.
The Lion Disaster Relief Kit
The Lion Disaster Relief kit provides power to you and your family when the dark clouds of disaster hit—it brings lights, communication, and assurance that things will get better.
The package includes:
2 x Lion Safari LT Power Unit
The Safari LT is the latest in Lithium battery technology for portable power needs. It replaces traditional noisy gas generators with the safest Lithium batteries power unit on the market today. You can use it to power a wide variety of devices like cell phones, laptops, tablets, mini-fridge, TVs, lights, power tools, and the list goes on. Any device that requires less than 500 watts, the Safari LT can power it. You can plug into its 2 AC outputs, 12V or USB outputs.
It will maintain its charge for about a year without having to charge it. This is known as shelf life or storage life. We recommend using it more frequently though as it's great for everyday use.
The Safari LT is made from the highest quality and longest lasting battery technology – Lithium. It's safe, silent and renewable, unlike other gas-powered generators. It gives your power anywhere, anytime. It's light-weight, durable and allows you to "cut the cord" from wall sockets.
The Safari LT is virtually maintenance free—no water or fluids to put in it, no messy water or acid to clean up. The Safari LT can last for years if you take care of it.  It comes with a 1 year warranty. It performs great in most weather conditions. It weighs in at just 11 pounds, making it easy to use anywhere. The dimensions are 11.8" L x 6.5" W x 7.3". It is a 12V, 450Wh (watt hours or how much energy it can store), 500W (watts or how much power it can output at a time).

4 x Lion Cub GO Power Unit
Lion Cub Go is a small, even more portable version of the Safari LT. It is capable of charging phones, tablets, laptops, cameras, and more. With a lifetime of more than 1000 charge cycles, the Cub Go can be discharged and recharged over and over again. This means you'll be able to keep your family's smart devices fully charged for your weekend getaway and still come home with juice left in the battery.  And in case of an emergency where you have to "bug out", just grab it and GO!
4 x GO 20 Solar Panel
This small, portable solar panel can charge the Lion Cub GO power unit and smaller USB devices directly. It comes with a built-in 11.8" dual USB cord and two USB outputs. At only 4.5 pounds, it's easy to grab-and-go and use it outside almost anywhere the sun is shining directly.
4 x Lion 100 Watt Solar Panel
The Lion 100 folding, portable solar panel is a solid piece of tempered glass surrounded with a rust proof aluminum enclosure. It has a 20 year rating and an easy-to-use handle to take it anywhere you need to harness the power of the sun.
2 x Cub JC (Jumper/Compressor) Jump Starter
This small yet powerful jump starter is capable of jumpstarting full-size light trucks, RV's, boat engines, and even an airplane - and is only 3 lbs. The Cub JC will do a lot more than jump-start your vehicle. It will also inflate a tire, charge phones, tablets, ham radios, or anything that can charge from a USB cable. Recharge the Cub JC from the wall or the 12-volt plug in your car in about 3 hours. Holds a charge for a few months but use it every day.
2 x Solar Panel Extension Cables
Our 25 ft. 30A extension cords are a must with our solar panels. This 30A Anderson™ cable will ensure that you can get your solar energy back into your generator by allowing the solar panels to stay in direct sunlight while your Safari LT is in the shade.
4 x Light (LED) Sets
Our light set comes with 3 LED lights that are 2 watts each. Each cord has 15 feet with an individual switch. These light up a room, a dance floor, a campsite or anywhere you need a little extra light.
People need portable power that doesn't tie them to a cord or to fuel-based units that smell, are noisy and are heavy. That's where lithium portable power units come into play. They are safe, silent, renewable, and lightweight, so you can use them wherever and whenever you need. They're the wave of the future and will give you the peace of mind in emergencies and power for your work and play, today, tomorrow and beyond.
Choose Lion Energy for Your Emergency Kit 
Here at Lion Energy, we believe in providing the highest quality portable power gear for all of your needs. It has been our mission to create the best and most useful solutions built on Lithium technology so you can have the freedom to go live life and have the power you need.
We hope you have found this blog was helpful. If you did, we would love for you to come check out what we have to offer for your portable power needs at:  https://lionenergy.com/