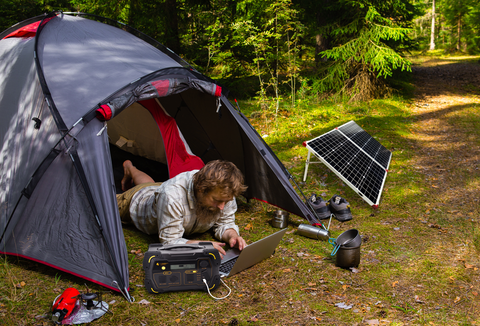 Exploring Different Types of Portable Power
A lot of people know that portable power is a thing. After all, we've all seen the little batteries that people carry around to charge their phones. But portable power goes far beyond little cell phone batteries. In fact, it can be exceptionally strong and versatile for a host of activities that most people never think of using portable power for. This article is a springboard for ideas where portable power can come in handy.
Portable Power for Outdoors
Picnic in the Park
What is a more classic summertime activity than going for a picnic? The kids aren't in school, the sun is out, and you've got a great spread of food in front of you. Picnics are simple and quick, but they make some of the best memories.
What if you want to capture those memories - take photos and videos - and send those memories to other family members and friends? For that, you need your phone to be working. But sometimes when you're taking videos, the battery in your phone doesn't last very well. That's when you should use the Lion Prowler. 
The Lion Prowler™ is a wireless power bank that can charge your phone and other small devices. It works with USB/USB-C devices and most wireless enabled smart devices (many newer cell phones), fits easily in any pocket or bag, and has a built-in flashlight and lamp in case your dinnertime picnic runs a little late. It can charge a phone up to 7X on a single charge.
Fun in the Yard
Sometimes just having fun in the backyard is the perfect activity. Doing a water slide, running through the sprinklers, doing a BBQ or having a movie night with the family or friends is just the thing. You can power the electric grill, the projector and TV, the ice cream maker or a variety of things to make that stay at home party most enjoyable. The Lion Safari LT has up to 500W of output through AC, USB or 12V plugs and is only 11 lbs so you can easily move it around. It can be recharged from the wall, solar panels or even the 12V socket in your vehicle. 
Hiking in the Mountains
Another favorite outdoor activity is hiking. And just like when you're picnicking, it's really nice to have your devices fully charged so they can capture all the great memories of your hike. Hiking usually involves driving a bit further, being gone longer, and facing more potential risks than you would on a simple picnic, so having more power is ideal. While the Lion Prowler can give you a quick charge when you need it, it may not be enough to give you all the power you need on a daylong hike.
When you go hiking, take the Lion Cub GO with you instead. It's only about 12 inches long on its biggest side, so you can easily carry it in a large pocket or your backpack, and you can tuck it pretty much anywhere you need to in your car. It even comes with an optional 20W solar panel. The Cub GO™ can keep your phone and devices running along with everyone else's in your group. This may mean switching it around between people a bit, but the power should easily last for all of you. 
Going on a Camping Trip
Camping is a whole different story from hiking and picnicking. Rather than needing portable power that can easily be carried in your backpack for the day, camping requires a longer-term power source.
When you go camping, you need portable power that can act as a generator. Now, your first thought when you hear "generator" is probably a gas generator - those obnoxiously loud and unsustainable ones that require gas. But generators have taken on a new form in recent years thanks to solar and lithium technologies. When you connect solar panels to portable power units, those units become clean, sustainable generators, giving you constant power from the sun. And the best part is these power units are silent, non toxic and can even be used in your tent for lights and charging phones.
Portable Power for Travel
Air Travel
Airplane travel is usually pretty convenient. At least, you get where you're going pretty quickly. But one of the biggest hassles about air travel is figuring out what you're allowed to take on the plane with you and what you are not allowed to take with you, and this is particularly true with portable power units. It seems like a lot of the TSA approved power units on the market are too small to be very useful.
So if you need a portable unit for air travel, then why not take the most capacity a battery can that is allowed on airlines? If you want that kind of power, the Lion Cub GO is a great option with up to 120Wh of capacity and still TSA approved. With multiple USB connections and an AC output, you'll be able to charge anything you need to from phones to computers. But if you're looking for something that can last a long time and is more compact, then you'll want to use the Lion Eclipse. It's like the Lion Prowler but better. It has 3 enabled wireless charging stations on it and can connect to USB devices. Plus, it'll fit easily in any of your carry-on baggage, purse or pocket and can be recharged in less than two hours while still charging a phone up to 9X and a laptop computer through the USB-C.
Long Road Trips
When you go on a road trip, you inevitably find that if you didn't bring backup power, you desperately need it. Whether it's for your devices or for your car, it's better to just be prepared. The last thing you want is screaming children or a dead car battery and no way to fix it.
So to keep everyone in the car happy, take the Lion Safari LT along with you. It's a large power unit at 11 lbs. with multiple USB, AC, and 12V outputs, so whatever in the car needs to be charged can be, one at a time or all at once. If your car is the thing that needs power, you want to make sure you have the Lion Cub JC with you. The JC is the all-in-one car jumper, air compressor, flashlight, and charger. Basically, it'll be your best friend on a road trip and is compact at just over 4 lbs.
Expanding Your Use of Portable Power
Obviously, the list of ways you can use portable power in your life is much bigger than what we have listed here. You could easily find ways to use portable power at theme parks, at school, while working out, and in your many hobbies and activities. Whether you're a parent or a student, an athlete or really indoorsy, there is a way for you to make use of portable power in your life.
If you're looking to use more portable power in your life, start with products from Lion Energy. These products are extremely user-friendly, convenient to carry, and highly durable no matter how or where you use them. Check out our products today and see which type of portable power is best for you. 
Portable Power for Emergencies
While we've talked about the "fun" things you can do with portable power, don't forget about the need for power in an emergency. You want to power the essentials like communication devices, keep your food cool, have lights and stay connected. The portable power units we've talked about already are a great source of power during emergencies too and provide safe, reliable power and comfort to you and your family. 
So, all of these portable power units or solar generators are safe and silent renewable power sources using lithium batteries and smart technology to keep you powered anywhere, anytime. Get yours today and let us know how you use these power units at www.lionenergy.com or info@lionenergy.com