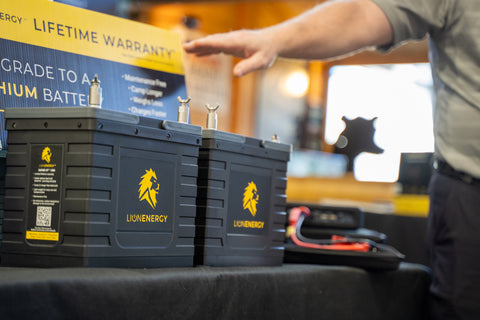 The Best Portable Power Units for 2020
The Best Portable Power Units for 2020
A new year means it's time to make sure you're prepared for the future - prepared for emergencies, for adventures, and for day-to-day needs. And to really be ready for all of the events of the coming year, you need to have 24/7 access to portable power units you can rely on. No more of those noisy, short-term use kinds of batteries.
You're ready for the real, rugged, top-of-the-line battery power units. The best portable power units available in 2020. 
That's right - here's the power you can get from Lion Energy this year:
Best Power Units to Keep in Your Car
One of the best places to keep a power unit is in your car. You never know when you'll need to jump your car's battery, need to charge your phone on a long drive, or fix a flat tire. 
And you need power to do all of that. Easy-to-transport-and-store power. So try one of our small power units, and don't worry about the size. You'll be amazed at the power that these units can store. 
Cub JC - Jumper / Compressor / Power Bank
It's useful to have a power unit that can jump your vehicle, but what if you need a power unit that can do other things? 
That's where the Lion Cub JC comes in. It's made to jump your vehicle, but it's ready to help power almost any need you may have in your car and on the go. 
The Lion Cub JC maximizes features that can power your transportation. It can jump more than your car - try it on your ATV or boat. But if all you want to do is jump a car, then you might as well buy the Cub MS.
But if you want a unit that can also fill your tires and charge your devices. So whether you're looking to connect with family or adjust your tire pressure, the Cub JC has you covered. 
Here's the best part - even though the Lion Cub JC has more capabilities than the Cub MS, it's only about an inch bigger in each dimension (7.6" x 4" x 2.2"). For almost the same size, you get more power to use. That's a bargain. 
Best Versatile Power Units You Can Use Anywhere
Do you ever wish you had portable power for things that aren't connected to your car? These devices are for you. If you love tailgating, road trips, or camping, you need a versatile power source that can help you use all of your appliances and devices - not just your transportation. 
Lion Cub GO
This is one of the smallest power units on the market - but it packs massive power. The Lion Cub GO is built with the strongest battery available that is still allowed on airplanes. You'll have power constantly when you need it, even when you're 30,000 feet up.
The Cub GO has USB, 12 V, and AC outlet options, and you can run a TV, a lamp, a camera, or a drone for hours on its charge. And, because it can power your devices silently, it's one of the best options for a tailgate. No loud noises disrupting the pre-game programming.
The Cub GO is one of our most portable power units, weighing in at only 3 pounds and sizing up at 12.6" x 6.3" x 3.5". Step up your power game when you're out of the house with the Lion Cub GO.
Lion Safari LT
Tiny power units are great for convenience, but not so great if you need a lot of versatility and outlet options. But a bigger power unit doesn't have to be less convenient - in fact, the Lion Safari LT will probably be more convenient for you in many ways. 
Let's get the elephant out of the room though - even though the Safari LT is bigger than the other power units on this list so far, it is definitely not elephant size. It's only 10 pounds, and its dimensions hit 12" x 6.5" x 7.5". So really, the biggest size difference is that it's taller than the other units. 
And the added size and weight pay off when you see how many more power outlets you can use and how much more power the Safari LT can really give you. 
For comparison, the Cub GO, a great but smaller power unit, can run a TV for about an hour. Not bad for such a little guy. The Safari LT, on the other hand, can run a TV for five hours, which will easily get you through your tailgate or movie marathon. And the Safari LT runs just as quietly as the Cub GO, so no loss there. 
The Safari LT gives you various AC, USB, and 12V power outputs. That means when you're camping, it can run everything in your camp without difficulty. Whatever work you're doing, whatever journey you're taking, you'll have all the power you need - long-term.
Best Power Unit for Running Your Vehicles
We already talked about jumping your vehicles, but what if your vehicle just needs a new battery? Lion Energy has a solution to that problem too. After all, you shouldn't have to buy a new battery every time your trailer or boat needs power.
Lion Safari UT 1300
So here it is - the best lithium battery for your RV, trailer or camper - the Lion Safari UT 1300. It weighs about 23 pounds, holds a charge 3 times longer than most batteries of this kind, and can be recharged more than 3,500 times. 
In other words, the Safari UT 1300 could last you the rest of your life. It's simple to install and keeps you aware of how much charge is left in the battery. You can run your motorhome, trailer, boat, and more on this battery. And once you do, you'll never go back. 
Lion Energy
Lion Energy creates the best renewable energy products on the market. Why are our products the best? No other company combines the level of high power renewable energy with convenience and portability the way Lion Energy does. Look over our portable power products to see how our power units, solar panels, and more can change your lifestyle now.