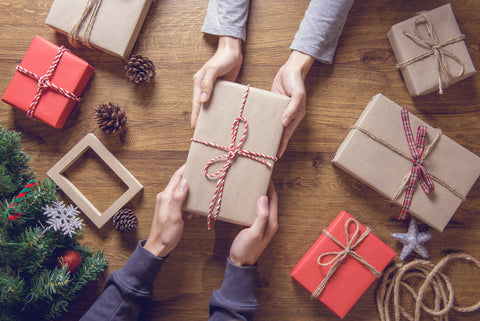 Lion Energy's Holiday Tech Gift Guide
The holidays are right around the corner, which means you're on the lookout for the best gifts for your friends and family. Whether you're searching for stocking stuffers for your tech-savvy child or a gadget that your parent or friend has been eyeing, Lion Energy has something for every techie in your life. 
The Best Tech Holiday Gift Ideas
Since it may be challenging to shop for the tech-obsessed, we've rounded up the hottest tech gifts to make your holiday shopping a little less stressful. Here are our top choices.
Grab the Lion Cub GO Power Generator
Small in size, big in power. That's how we describe the Lion Cub Go. As the smallest solar power generator, it's easy to bring along on nearly every adventure. Whether you're road-tripping across the continental US or gearing up for a tailgate before the big game, the portable generator is easy to stick in your vehicle. Use the Lion Cub GO to its maximum capacity by utilizing it to power USB devices, a phone charger, a flashlight, or an SOS beacon.
As a bonus, the Lion Cub GO can run for hours. It maintains its charge for up to an entire year. And it only takes about 6 hours to charge from a regular wall outlet and about 5 hours with a solar panel. It has a 150 watt inverter built in for AC output. For all you non-techies, this means it will charge a host of things, including ham radios, flashlights, drones, cameras, walkie talkies, laptops, and more. Plus, you can run new TVs for long enough to watch an entire movie. 
Unlike other power units, the Lion Cub GO has silent power, allowing you to sleep like a baby at your campsite or work through the night without a loud distraction.  
Snag a Safari UT 1300 Lithium Battery
The Safari UT 1300 packs a punch. As a lithium battery, it replaces traditional deep-cycle lead-acid batteries. In layman's terms, lithium-ion batteries like the Safari UT are newer and more advanced in its technology. Because of its cutting-edge technology, the 12V battery can be completely drained and recharged over 3,500 times. On top of that, it can maintain a charge for up to 2 years so that you can power all of your RVs, 5 wheels, dump trailers, and motorhomes. You can even use it to store energy in your home to help power critical loads in your home during a power outage.
Snag the Safari LT
If you like the Cub GO, you may also like the Safari LT. This one-of-a-kind power generator is the perfect power solution for most any situation or environment. With over 1,000 charge cycles, you'll never be down and out. Lightweight and portable, the Safari LT can run a smartphone for 32 times longer than the phone's battery. With a built-in inverter, it can provide 500W of power via AC, USB or 12V output for a wide range of applications. And it's virtually maintenance-free, which means there's no messy water or acid to clean up. 
This handy power generator is perfect for the person who has everything. We're talking phones, laptops, TVs, mini-fridges - you name it. Any device that requires less than 500 watts, the Safari LT can power it. It can charge several devices at one time, which means the person your shopping for can't complain about their dying phone battery ever again.  And it can be renewed through solar, wall or even 12V cigarette output from your vehicle.
Lean on the Lion Cub JC
Our latest release is a jump starter, air compressor, USB power output, and a 3 setting flashlight, all rolled into one. It can jump-start cars, light trucks, boats, UTV/ATV, motorcycles, riding lawn mowers and more. It's also stellar for powering the smaller gadgets, such as phones, DSLR cameras, USB reading lamps, and more. The Lion Cub JC doesn't just provide portable power. It can easily inflate low tires up to 120 PSI. If you're ever in a bind, this compact battery technology will have your back, all while being tiny enough to fit in a pocket.  
Shop Lion Energy's Technology Packages
If you want more bang for your buck, consider browsing our assortment of technology packages.
400 Watt Solar Power Kit
The Lion SPK lets you harness the power of the sun and convert it to power your devices, tools, lights, and many other power needs. Use the SPK for your shed, cabin, gazebo, campsite, or outdoor adventures, anywhere you want to cut the house cord and still have power.
Off-Grid Camping Package
Does the man or woman in your life enjoy getting out in the backcountry? Lion Energy's Off-Grid Camping package provides safe, silent, and portable power to support their cooking, communications, and entertainment needs. 
Tailgating 
Football season isn't over just yet. Take advantage of our Tailgating package to have all the power you need for grilling and chilling before the big game. 
Disaster Prep
If the person your holiday shopping for lives in tornado alley or hurricane-prone areas, consider the disaster prep package to provide them and their family communication, power, and assurance. This kit is also perfect for the family who likes to be prepared, regardless of their location.
Taxi Parent
The On the Go Trio package offers portable power for your smartphones, tablets, gaming devices, and more. And keeps the kids devices powered up.
Cub GO Solo Expedition Kit
This Cub Go Solo Expedition kit is perfect for the people in your life who are always on the go. It provides power for all USB devices like your phone or tablet. 
Shop Lion Energy's Stocking Stuffers
Are you looking for stocking stuffers? Here are some accessories that every adult in your life will appreciate.
Cub MS Power Generator
This compact complete vehicle jumping system has the power to jump up to 20 vehicles in one charge. At only three pounds, it's robust enough to jumpstart RVs, boats, and even an airplane. 
Anderson
TM
Cable 
This budget-friendly cable is a must-have accessory for Lion Energy solar panels. The 30A Anderson cable will ensure that you can get your solar energy back into your generator, wherever the sun is shining. This way, solar panels can be positioned without ever worrying about the cord reaching.
Three LED Light Bulb String
Lion Energy's energy-efficient LED light bulbs should be at the top of your holiday shopping list, particularly if the person you're shopping for enjoys camping under the starry night sky and still wants light closer to their camp. Each cord has 15 feet with an individual switch.
We're sure your techie friend or family member will love any of these Lion Energy products. Have questions about one of our products? Contact our team today!